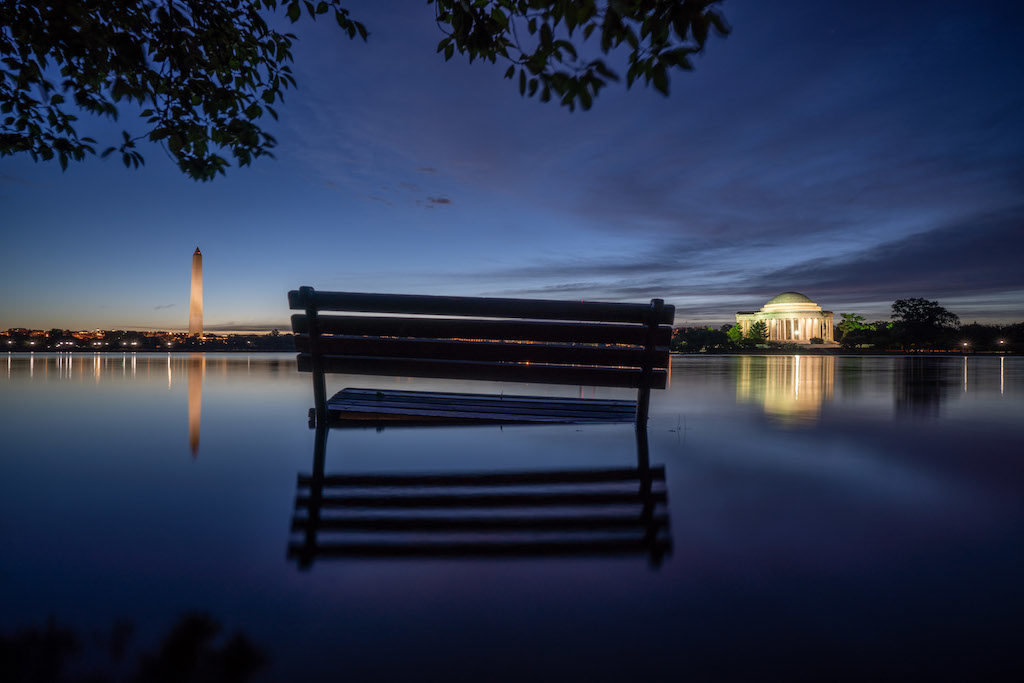 Last but not least, we announce our fifth Best in Show prize winner for our 13th Annual Exposed DC Photography Show. Each year a panel of five influential photographers choose their favorite image, and each winning photographer receives a $100 cash prize from Exposed DC.
"Nuisance Flooding" by Kevin Wolf was chosen by Lauren Stockbower for its unique perspective. She described the work taken at the Washington and Jefferson memorials as "one of the most beauteous and ephemeral weather pictures." Furthermore, Stockbower states: "Photographically, the composition is strong, with horizontal thirds divided by the memorials as bookends and the crooked bench, mostly symmetrical, in the center. The reflections of all three add mood and depth to the image, as do the white lights reflected in the water on both edges."
You can see more of Kevin Wolf's work on Flickr and Instagram.
See all 43 winning images of the 2019 exhibit, including the five Best in Show winners, on display at Touchstone Gallery during our opening reception on February 13 from 6-10 p.m. A limited number of advance tickets are available, so grab yours now to join us in our 13th year of celebrating local photography!
***
Lauren Stockbower has worked as a picture editor over the course of 20 years for The New York Times, Forbes, Business Week, and U.S. News and World Report. She has also been both a staff newspaper photographer and a freelancer throughout Asia. She was the Director of Archive Pictures in New York City for several years and has frequently been a judge for the Robert F. Kennedy Journalism Award. An educator for twenty years, she has taught at the Corcoran College of Art + Design, the Center for Digital Imaging Arts, and Northern Virginia Community College. She freelances as a picture editor, works with photographers on their portfolio development, and serves as Portfolio Director for UFolios.com.

---