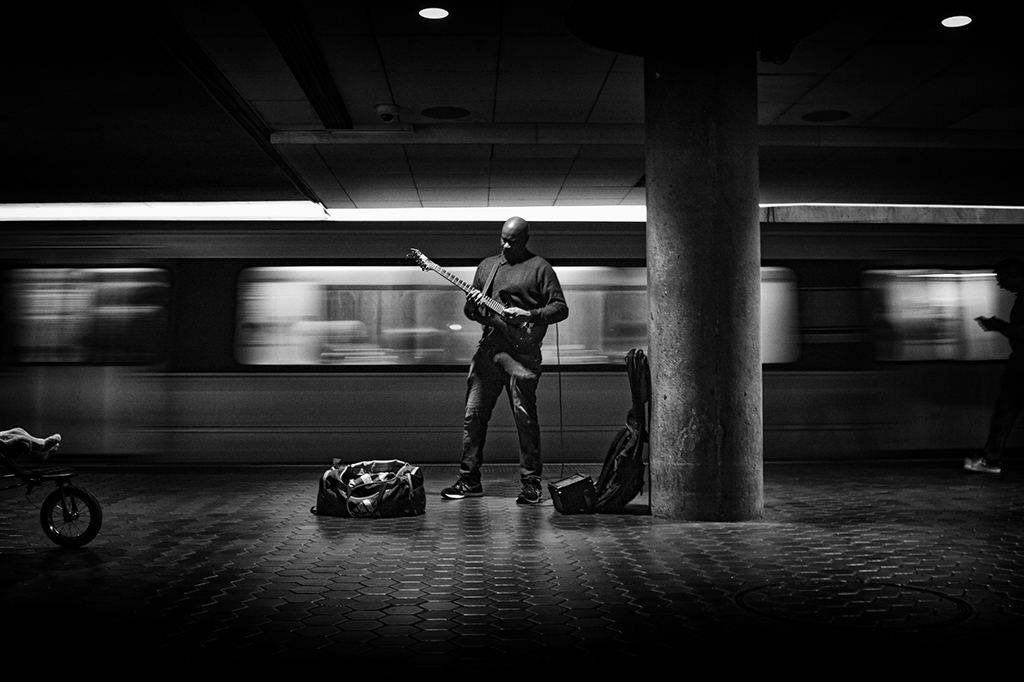 The 17th Annual Exposed DC Photography Show is just a few days away! Please join us this Sunday, June 4 from 3-6 p.m. for an opening celebration at Lost Origins Outside in the alley adjacent to Ellē at 3221 Mount Pleasant St NW.
This week, we announced the Best in Show winners of this year's exhibit. Each of these images was chosen by one of our guest judges—five distinguished, local photographers and creatives. The winning photographers each receive a $100 cash prize along with the Best in Show distinction.
Join us in congratulating Matthew Steaffens whose photo, "Metro Jam" was selected by judge Candance Dane Chambers. Regarding her selection, Candace commented, "The motion of the train juxtaposed against the static guitarist is a beautiful visualization of music's ability to stop time. Steaffens' use of heavy vignetting creates a spotlight on his subject, offering him a stage and reverence that street performers are often denied."
You can view more of Matthew's work and connect with him on his website and Instagram. Join us in Mount Pleasant on Sunday to see all of the winning photographs in this year's show together at Lost Origins Outside. You'll be able to meet and chat with featured photographers and the Exposed DC team and purchase an exhibition program or even put in an order for a fine art framed print!
---
About the Judge
Candace Dane Chambers is a Washington, D.C.-based visual anthropologist and photographer seeking to represent a rich, nuanced record of the Black experience free from stereotypes and respectability. From that foundation, she's specifically interested in documenting how we create change & community through cultural expression. She specializes in environmental portraiture using natural light to create honest images that capture the richness of daily life & the connectivity of our shared experience. She's also drawn to architectural structures as spaces for self-reflection, encouraging us to consider our own unique form and function. Candace has recently earned a master's in photojournalism from George Washington University and currently serves as the Inclusion Committee Chair for Women Photojournalists of Washington.