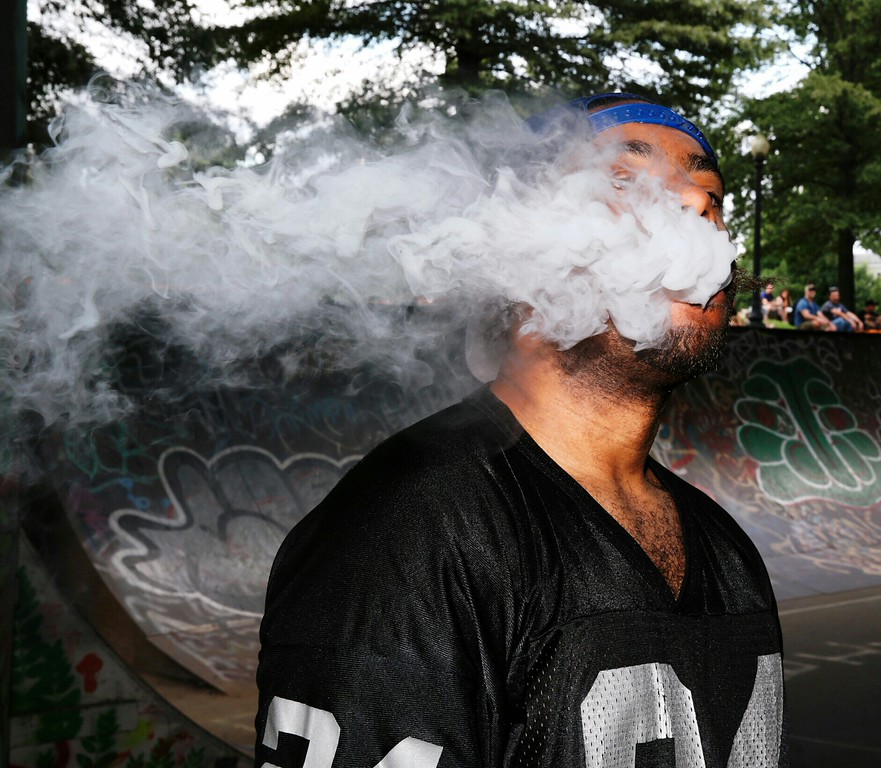 And now for the second of our five Best In Show prize winners from the 9th annual Exposed DC Photography Show. We invited each member of a panel of distinguished D.C. metro-area editors and photojournalists to choose their favorite photograph from the 42 in this year's exhibit. The five winning photographers will each receive a $100 cash prize from Exposed DC.
We'll be announcing the winners each day through next Tuesday. Advance tickets are still available for the opening reception this Thursday, March 12.
Today's Best in Show winner is the striking "Oi Vape" by Diriki Rice. Congratulations Diriki! His photo was chosen by judge Lauren Stockbower, a veteran picture editor, photojournalist and educator in the D.C. area:
An intriguing portrait of a skater, whose face is only partially visible because of the long, twirling, and mysterious cloud of –vapor. The shadowy graffiti-laden background at the Bridge Skate Park in SW adds to the mood. Vaping looks way cool.
---
Exposed: Tell us about the photo: Where was it taken? Was it staged, or did it just happen?
Diriki Rice: I heard there was a skateboard demo at the Bridge Spot Skate Park on 2nd Street SW, so I decided to spend the day there looking for shots. In between grabbing shots of skateboarders I saw a guy on rollerblades sitting by himself smoking a vape and since I have a thing for shooting images of smoke I asked him for a portrait and he agreed.
The title of your photo made us chuckle. Is humor important in your photography?
Photography can capture a broad range of emotions at any given time and the images connect to people differently. I took a creative writing course in college and the instructor always encouraged us to come up with a title that could possibly hook the reader. When one views the image one will automatically think it's a man smoking marijuana, but I wanted to clear the proverbial air and let the viewer know exactly what the viewer was looking at which is Vape, and I figured Oi would work because skateboarding has a strong connection with punk culture.
How did you decide which images to enter into the contest? What made you choose this photo?
Entering any contest is a roll of the dice, so this selection was at the behest of a fellow photographer for I had no idea what to choose so the credit goes to him (Beau Finley).
What are you working on at the moment?
Recently I had a couple of portfolio reviews and all my reviewers came to the conclusion that while I have great single images I don't have a series, so I actually have a project in the works which will take up the majority of my time and I couldn't think of a better way to spend it.
***
You can see more of Rice's work in his Flickr stream.