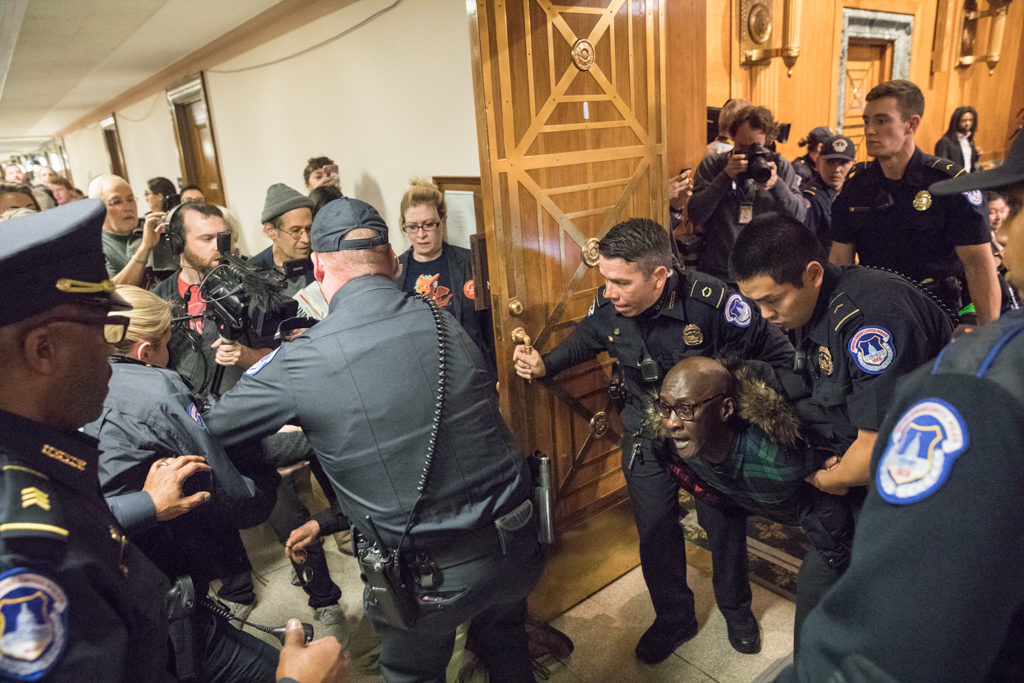 Friday, May 11 is the opening night for our 12th Annual Exposed DC Photography Show. Discounted advance tickets are available now, so grab yours soon! Every year we ask a panel of five distinguished, local judges to select one image each for a Best in Show award. The winning photographers each receive a $100 cash prize; this year the award is sponsored by Union 206 Studio. We'll be announcing the 2018 Best in Show winners over the next couple of days, starting right now!
First up, we have "Senate Hearing On Healthcare" by Erika Nizborski, selected by judge Lucian Perkins. Lucian stated, "I love this image. It has everything going for it—a moment frozen in time that tells a story within the confines of the image and most likely historically as well. It is layered in such a way that you can study it for a long time exploring the many emotions within this one image."
You can see more of Nizborski's photographs on her website.
***
Lucian Perkins is a two-time Pulitzer Prize-winning photojournalist, who worked for over twenty years as a staff photographer for The Washington Post. He was named Newspaper Photographer of the Year by the National Press Photographers Association in 1994, and he was awarded the coveted World Press Photo of the Year in 1996. His Pulitzer Prizes were won during his tenure with The Washington Post for his work on poverty in the U.S. and the conflict in Kosovo. Currently, he is an independent photographer and videographer concentrating on multimedia projects and documentaries.