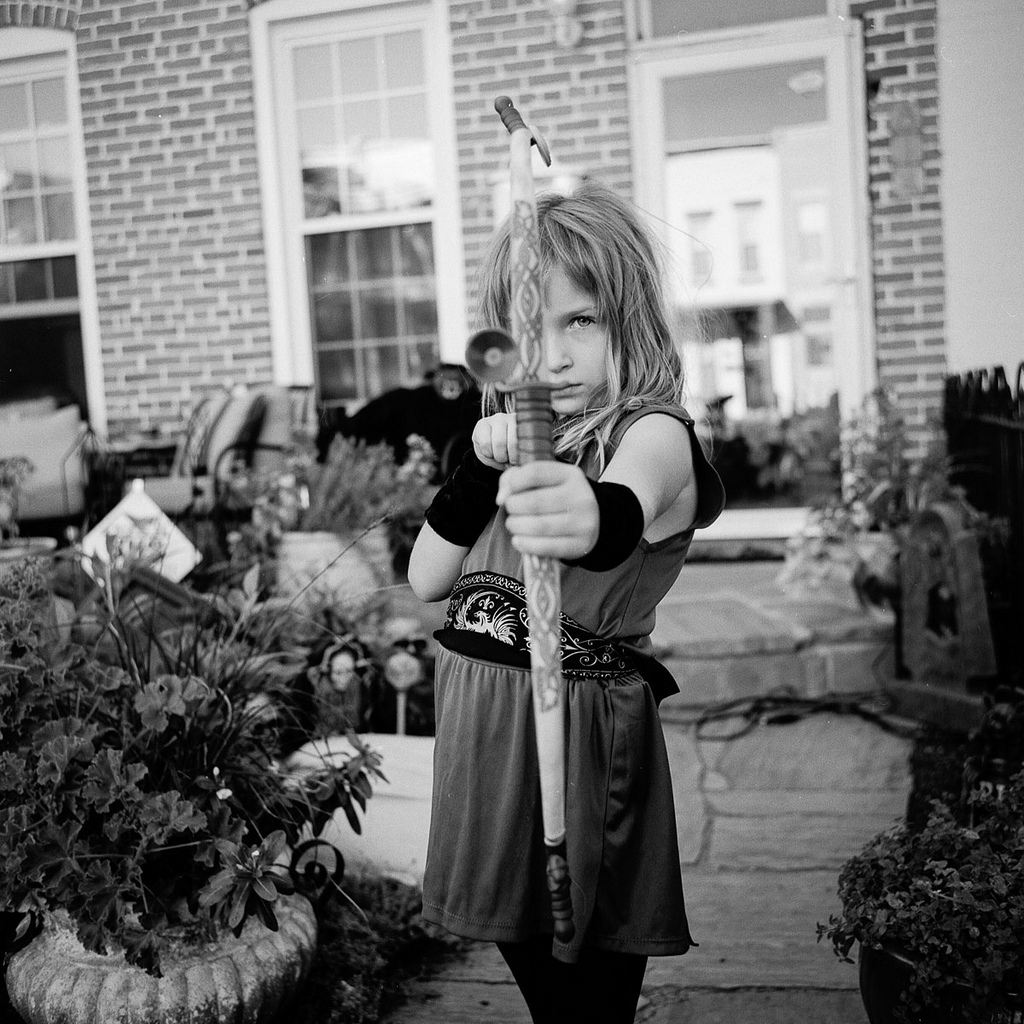 Only two more to go! Here is the fifth of six winners of our inaugural Best In Show prizes for the 8th annual Exposed DC Photography Show. We invited a panel of distinguished Washington-area photojournalists to pick, in their esteemed opinion, their favorite photograph from our group of 49 images. Each Best In Show winner receives a $100 prize made possible by the Corcoran College of Art + Design.

We'll be announcing the winners each day through next Monday. Tickets for the show, which opens next Wednesday, March 19, are available now.
Today's Best in Show image is "Girl With Bow and Arrow" by Patrick Wright. Congrats Patrick! His photo was chosen by judge Jacquelyn Martin, a staff photojournalist with the Associated Press, Washington D.C. bureau and the president of Women Photojournalists of Washington.
---
Exposed: Where were you when you took this photo? Was it staged, or a scene you came upon?
Wright: As part of an ongoing photo project, I walk around my neighborhood in Capitol Hill looking for strangers to photograph. I saw this girl in costume and thought she'd make for a great subject. As I was walking towards her, her mother pointed to my twin-lens reflex camera and said, "Hey, that's an antique!" I took the opportunity to introduce myself and after a few minutes of conversation, asked if I could take a photo of her daughter. She agreed and her daughter did, too. But as I was preparing to photograph her, she looked timidly at her feet. So I said, "You can aim your arrow at me. Just promise me that you won't shoot!" Her expression transformed. It was like watching an actress disappear into a role.
Exposed: The young archer has a very intense look on her face. Has the girl and her family seen the photo? Did you share it with them?
Wright: Yes, I did share it with them. I left a print at their front door but I don't know what they thought of it. I guess her intense look will forever be one of my life's mysteries.
Exposed: How did you decide which images to enter into the contest? What made you choose this photo?
Wright: I submitted three photos: my favorite, my wife's favorite, and my most favorited photo on Flickr. This one was my wife's favorite.
See more of Patrick's work at his website.