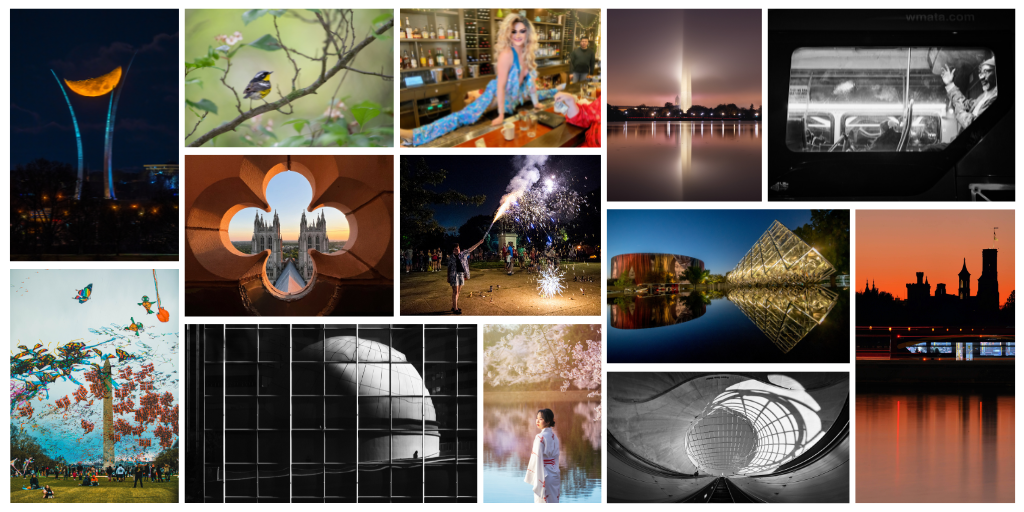 We're excited to announce the winners of the 17th Annual Exposed DC Photography Contest! These images, as seen together, tell the story of Washington, D.C., as documented by the people who live, work, and love here. You can view the full list of winners below.
Thank you to everyone who entered this year's contest for sharing your work with us and congratulations to this year's winners. We always enjoy seeing this city through your eyes, and we're proud to have the opportunity to share the work of local photographers of all levels whose images help tell and celebrate the story of life in and around this city of ours. Stay tuned for updates about the 2023 Exposed DC Photography Show and join us for a celebratory happy hour on Wednesday, March 1 from 6-8 p.m. at 801 Restaurant & Bar.
Whether you just found out about Exposed DC recently or you've been with us from the very beginning, we want to say thank you for being a part of our community. Here are some ways to get involved, and be sure to subscribe to our newsletter to get updates on our events, contests, and shows, along with interesting photography news.
Now, without further ado, we present to you the winning images of the 17th annual Exposed DC Photography Contest.
Alethea Merelos – Washington National Cathedral
Angela Napili – "Draw the Curtain" and "Delta Solar"
Arpita Upadhyaya – Time Travelers
Ather Ahsan – Untitled
Brian Mosley – Roman Candle
Chris Suspect – Daikaiju @ Slash Run 2022
Christopher Buoscio – Franciscan Monastery in Spring
Craig Nedrow – Vietnamese Lunar New Year
David Moss – Tigrayan Anti-War Demonstrator
Don E. Harris – Untitled
Doug Davies – Turtles All the Way Down
Geoffrey Vincent – Georgetown Gothic
Ian Cunningham – Late Night Bus Ride
Jeffrey Morris – AceOno
John Brighenti – It's a Long Way to the Top
Josh Steele – Moon Diva
Kaleb Friend – Magnolia Warbler in Hawthorn
Karen Davis – Untitled
Karon Flage – Whitney Guccigoo at New Year's Day Brunch at Perry's
Kendell Smith – Discovery
Mark Alan Andre – Into the Void
Matthew Steaffens – Metro Jam
Mike Landsman – Airshow Salute
Miki Jourdan – Not Your Body
Mukul Ranjan – Brazilian Dancer
Pablo J Benavente – Into the Void
Peter Quinn – Sunset Castle Tour
Prescott Moore Lassman – Gallery Girls
Richard Brundage – On Thin Ice
Robert A Urteaga – Get Lost
Robin Fader – Abortion Rally Green Torch – July 4, 2022
Ryan Merkley – Moonset Behind Cathedral
Suzanne McIntire – Performer Without an Audience
Thomas Cluderay – Light Show
Zev Kanter – Freedom Park