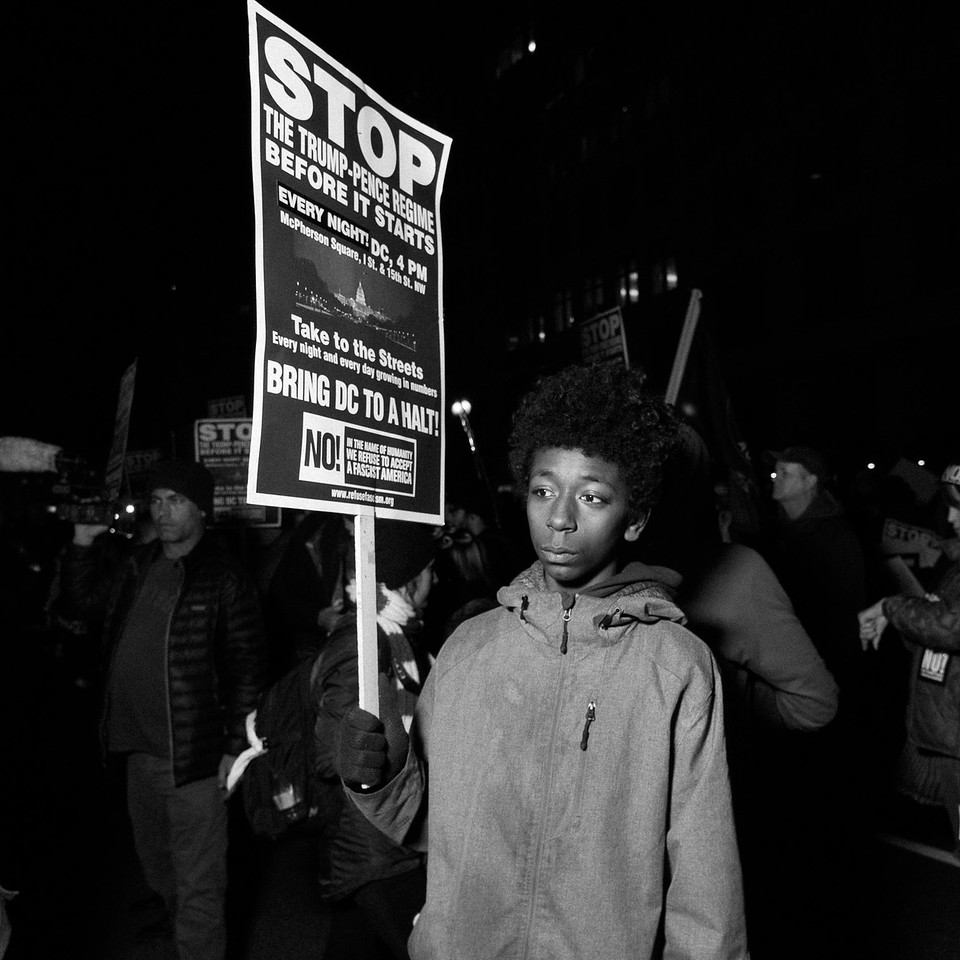 Here's the second of our five Best In Show prize winners from our 11th Annual Exposed DC Photography Show. We invited each member of a panel of distinguished D.C. metro-area photographers to choose their favorite photograph from the 43 in this year's show. The five winning photographers each receive a $100 cash prize from Exposed DC. We'll be announcing the other winners over the coming days. Advance tickets are still available for the opening reception next Thursday, March 9!
Today's Best in Show winner is "Inauguration Eve" by Ray Alvareztorres. His photo was chosen by judge Jennifer Sakai of the Corcoran School of the Arts and Design. Sakai wrote: "The young man's expression shows a seriousness and portent that tell a story all its own. The lighting makes you stop and reflect on his countenance, while behind him is a sea of activity." The young man's expression is compelling. I feel his anguish. As Jennifer mentions, the light from the photographer's flash irradiates the subject's forlorn demeanor, allowing the viewer to focus only on him and empathize with a singular American.
See more of Alvareztorres' work on his website.
***
Jennifer Sakai is a fine art photographer and educator who resides in Washington D.C. She received her BFA at the Art Institute of Boston at Lesley University in Boston, Massachusetts, and her MFA in photography from Virginia Commonwealth University in Richmond, Virginia. She has taught at the Park School of Communications at Ithaca College, and Virginia Commonwealth University. She is currently a visiting Assistant Professor of Photography at the Corcoran School of the Arts and Design at The George Washington University.