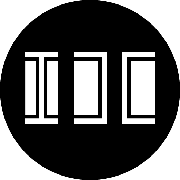 In a city as transient as D.C. it's not unusual to watch ideas and groups flit in and out of existence, but some of them make their mark. We've followed Instant DC since they started their group focused on mobile photography in 2010 with much interest. They've run successful projects from independent exhibits in coordination with groups like STRATA, to managing the local photography section of FotoDC last year. Led by James Campbell, Instant DC boasts some incredible local talent, including photographers featured by Exposed many times, like Emily Reid Campbell, Keith Lane, Michael Andrade, Jim Darling, Noe Todorovich, and Patrick Onofre.
That's why we're incredibly happy to announce that the Instant DC collective has become part of Exposed DC today. Their writers and photographers will be featuring the best in mobile photography right here on the site (which will see some big changes in the coming months). We'll also be coordinating some of their upcoming exhibits – tune in next Wednesday for an announcement of an exciting local contest!
If you're one of Instant DC's many fans, we hope you'll follow us on Twitter and Facebook, and keep in touch with our monthly newsletter featuring the artist interviews and gear talk and whatever else we post to the website. We meet up for a monthly happy hour, and have some other exciting events in the works soon. Let's have James Campbell tell us what's in store:
I have been extremely lucky to have the opportunity of launching a brand like Instant DC and watch it take on a life of its own over the past 3 years. Believe it or not, we had DC's first mobile photography exhibition back before Instagram even existed. Becoming part of an organization like Exposed DC is the next logical step in my mind. We will now be able to help Exposed DC curate great mobile photography and highlight trends in the social / connected photography arena. I believe firmly in Exposed DC's mission of featuring and enabling emerging photographers in the local area and look forward to continuing to plan periodic exhibitions and creative happenings under the Exposed DC banner.