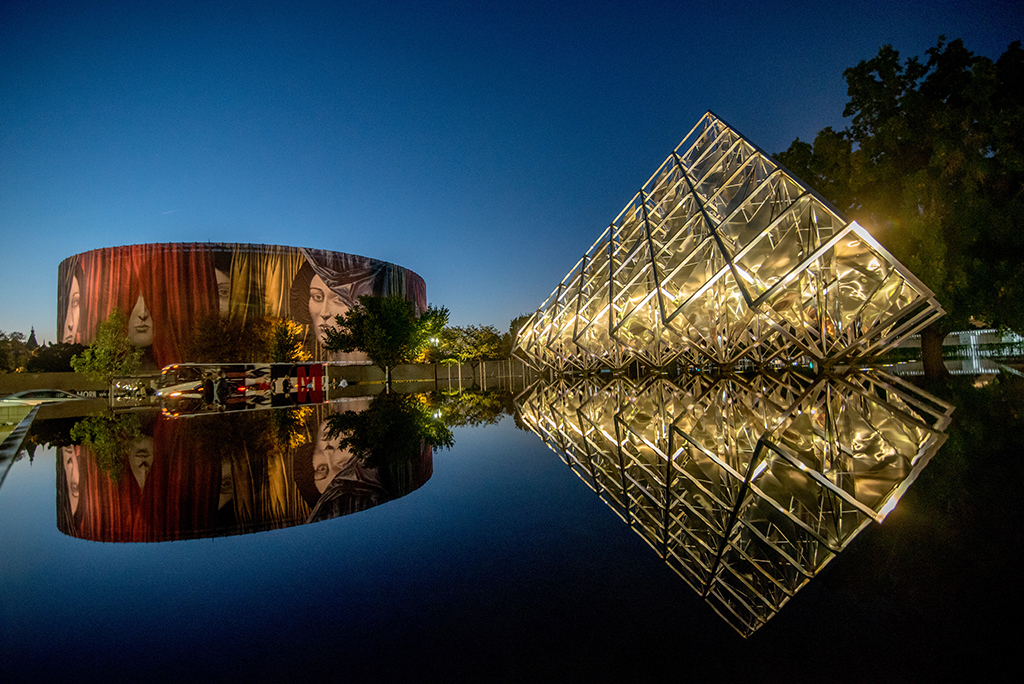 The 17th Annual Exposed DC Photography Show is just around the corner! Please join us this Sunday, June 4 from 3-6 p.m. for an opening celebration at Lost Origins Outside in the alley adjacent to Ellē at 3221 Mount Pleasant St NW.
In the days leading up to the show opening, we'll be announcing this year's Best in Show winners. Each of these images was chosen by one of our guest judges—five distinguished, local photographers and creatives. The winning photographers each receive a $100 cash prize along with the Best in Show distinction.
Join us in congratulating Angela Napili whose photo, "Draw the Curtain" and "Delta Solar" was selected by judge Colin Winterbottom. Regarding his selection, Colin commented that "Angela captured a strong pairing in the Hirshhorn's temporary cover and the sculpture that sits across the way. The triangular elements of the parting curtains echo the triangular elements in the Delta Solar. I expect few people would have noted the fleeting juxtaposition – well done!"
You can view more of Angela's work and connect with her on Instagram and Twitter.
---
About the Judge
Colin Winterbottom is a fine art photographer with an interest in architecture. He is particularly motivated to discover "new takes" on monumental and iconic subjects. Colin seeks out unusual points of view and unexpected juxtapositions. Favoring atmosphere over accuracy, his photography evokes emotional undercurrents in the built environment. Colin's penchant for unique perspectives drew him to historic preservation projects in which construction equipment like scaffolds and scissor lifts give access to rarely accessible views and proximity to ornamental details usually experienced from a distance. He has documented preservation work at the Washington Monument, National Cathedral, Union Station, and Trinity Church Wall Street, among others. His work has been exhibited at the National Building Museum, The Phillips Collection, the Kreeger Museum, and galleries in Washington, D.C. and is in numerous collections such as the Smithsonian Institute's Photographic History Collection, the Supreme Court, The Carlyle Group, and the Federal Reserve Bank.