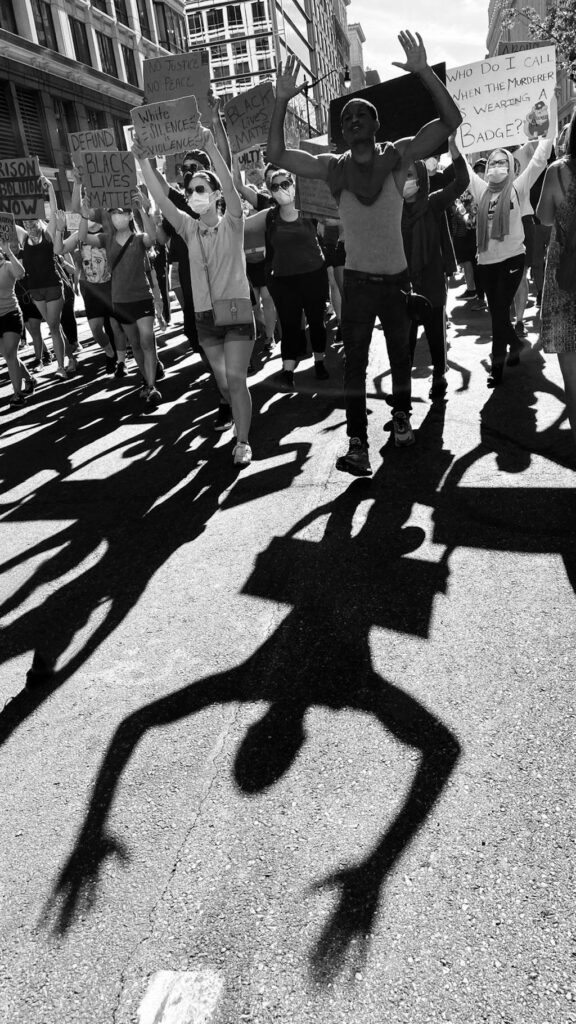 We can't wait to shake off our pandemic ho-hums and celebrate local photography with you at our 15th Annual Photography Show. This year we are partnering with Focus on the Story and Lost Origins Gallery to present an outdoor exhibit that will be installed on the exterior wall of Ellē restaurant at 3221 Mt Pleasant St NW. Join us on Sunday, June 6 at 3 p.m. to celebrate the 2021 Exposed DC photography show opening, part of the kickoff for the fourth annual Focus on the Story International Photo Festival.
We are excited to announce the Best in Show winners for this year's show in the days leading up to the opening on Sunday! Today, we are announcing the selection of "Each Substance of Grief Has Twenty Shadows" by Arpita Upadhyaya, selected by judge Adriana Mendoza. Mendoza commented, "First, the title captures what sparks so much emotion from me. The shadows, the angle, and the black and white version of this capture bring forth the power, the grief, the anger that was felt that day."
You can view more of Arpita's work on Instagram and Flickr.
***
Adriana Mendoza is the Creative Director and Operations Manager at Femme Fatale DC, a dynamic community that supports and amplifies womxn in business and in life. Her background includes a Master in Landscape Architecture focused in the design of public space in underserved communities. She worked at Floura Teeter Landscape Architects, bringing communities together through designing attractive and functional places for public gathering.