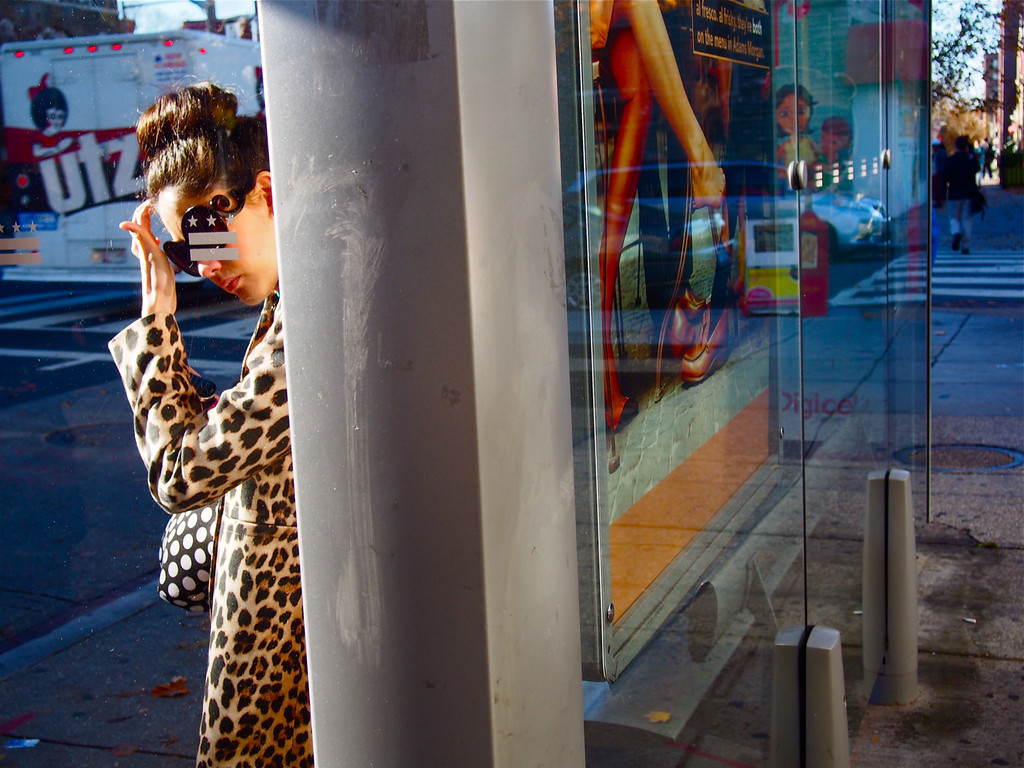 Today we present the third of our five Best In Show prize winners from the 9th annual Exposed DC Photography Show. We invited each member of a panel of distinguished D.C. metro-area editors and photojournalists to choose their favorite photograph from the 42 in this year's exhibit. The five winning photographers will each receive a $100 cash prize from Exposed DC.
We'll be announcing the winners each day through Tuesday. Tickets are still available for the opening reception this Thursday, March 12!
Today's Best in Show winner is the intriguing "UTZ: Adams Morgan Bus Stop" by Denzil Spicer. His photo was chosen by judge Cynthia Connolly, a photographer, curator, typographer and the Visual Arts Curator of Artisphere in Arlington, Virginia:
This was selected specifically because it exposes aspects of D.C. that are key in expressing the characteristics of our city. There's solitude and loneliness with the young woman at the bus stop whose face is obstructed by the D.C. flag imagery. The many logos, images and cleanliness seen in this photograph are at-the-moment contemporary. For many who have lived here a long time, this was not always the way it was. A depiction of this bus stop perhaps 30 years ago would show a shelter with the weather worn plexiglas, and the background would be abandoned buildings of grey and black. Here we see color, the movement of business and people.
---
Exposed: How did this photo come about?
Denzil: The location for this photograph is a bus stop directly across the street from my dwelling, which is also often the starting point for the airport when I'm traveling abroad. I know its lighting well, as it faces me as I take in the sky, birds, and light of day from my front steps. The bus stop is a changing venue for posters but also exhibits semi-permanent symbols, such as the the D.C. flag. That symbol just happened to be intersecting with sunglass shielding eyes of the waiting woman as the UTZ truck with its red lights was driving by. Her animal print clothing represented something feral to me – a Cartier-Bressonian "decisiveness". Who's to tell?
I associate this location with the colorful neighborhood bar and performance space Chief Ike's, whose regulars and musical performers ground the conviviality of the neighborhood, and which has schooled my thinking about slowed night-time interior photography as rhythmic pulse.
This image is from a work-in-progress – a Photography/Poetry book tentatively called "DC: Upside-Down-Sideways".
How often do you have a camera with you?
I tend to only carry a camera earlier in the day or later afternoon, feeling that the light will fall pleasingly on a subject, be it people, objects, landscape, atmospherics. Night time is trickier, and is sometimes confused with the thought of myself as an interloper in others seeking out sensuous, predatory, escapist pleasures, under artificial lights.
There are so many sub-cultures out there being expressed, any one of which could trigger the amateur social anthropologist in me. Local festivals and other outdoor happenings can also be a magnet, if not competing with other more sedentary interests.
I choose small, light cameras (e.g., Olympus) held on a wrist strap so that I can be as inconspicuous, and part of the participating scene (without getting wet), as much as possible.
How important is color in your photography?
As my photography evolves, I think that color, almost inherent in my aesthetic nature, is a strong suit. The fact that I am a native of the Caribbean, and have stewardship for seaside properties there, with a deep commitment to tropical botanical flora (particularly Xeriscaping) clearly affects my eye.
I also value color in the art of renowned painters (Leonardo, Michelangelo, Giotto, Rembrandt, Vermeer, van Gogh, Matisse, Bacon, Hocking, Pollock, Basquiat), and in the books of the Magnum affiliated photographer Alex Webb, in collaboration with his poet/photographer wife Rebecca Norris Webb.
I muse over the lengths that visual artists, textile-ists, and ceramicists have gone to to source the mineral, vegetal, and animal-insect pigments to produce the colors that dazzle our eyes and imaginations, before modern chemistry began its rule. One particular story about a Michelangelo painting in which the figure of the Virgin Mary, whose clothing was to be a rare ultramarine, says a lot about the literal "value" of color. Her form was never completed by the artist, due probably to the great expense and logistics of powdering and converting to paint the lapis lazuli stones from the mines in distant Afghanistan.
How did you decide which images to enter into the contest? What made you choose this photo?
As I review the images I submitted for the contest, I sense a stillness, an almost spiritual introspection, within the context of urban chatter and complexity. Empathy and mood-setting also contributed to the choice of the people depicted, while starkly aware of the symbolism contained within each image.
Appropriation of the cult of advertising seems also to specify place and setting, propagandizing enticements which play out in a quest of how desires and personalities are layered, tangled and mere fragments for getting to our truths.