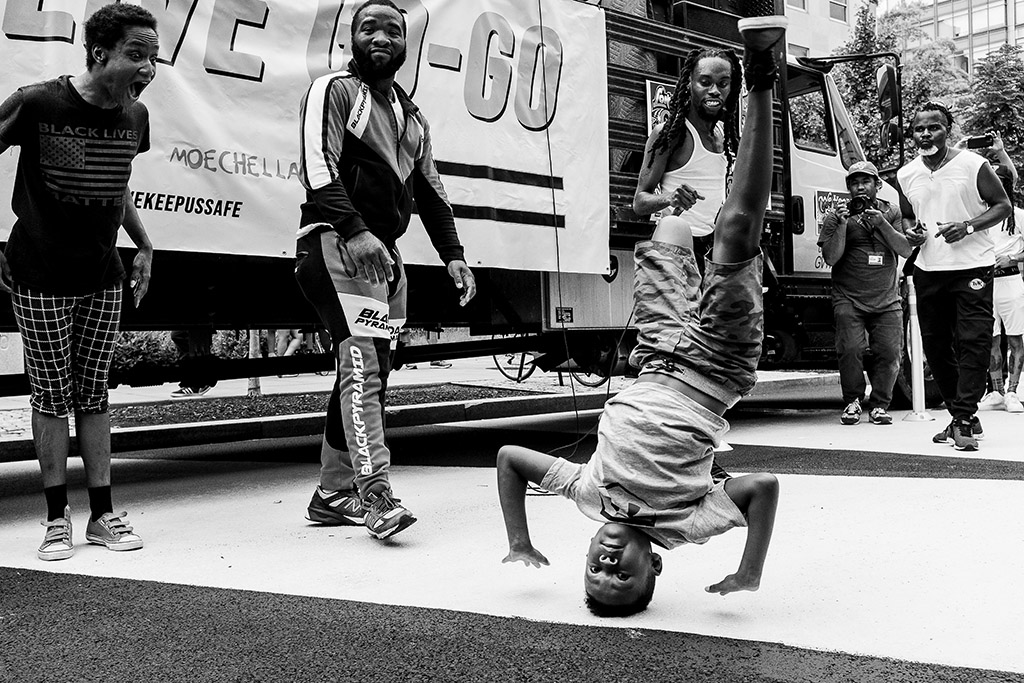 The 16th Annual Exposed DC Photography Show opens in two days! Please join us this Sunday, May 29 from 3-6 p.m. for an opening celebration at Lost Origins Outside in Mount Pleasant. You can view all 38 winning images including the five Best in Show winners along the alley adjacent to Ellē at 3221 Mount Pleasant St NW.
In the build-up to the show, we're announcing the Best in Show winners of this year's exhibit. Each of these images was chosen by one of our guest judges—five distinguished, local photographers. The winning photographers each receive a $100 cash prize.
Today, we are announcing the Best in Show winner "Million Moe March 'Moechella'" by Mike Landsman selected by judge Kenny Holston. Regarding the selection, Holston commented, "I feel this image captures a happy moment during a time of so much turmoil. I really enjoy the reaction of the people watching the young boy, and the action in the photo draws the viewer in. The photo looks nice in black and white, and it's a moment that sticks with you."
You can view more of Mike's work on his website and Instagram.
***
Kenny Holston is a professional freelance photojournalist for The New York Times. Most recently he has covered Voting Rights, Afghan refugees fleeing Afghanistan, politics, the COVID-19 pandemic, and the 2021 Presidential Inauguration. Kenny is a former United States Air Force photojournalist who served for 14 years and was awarded Military Photographer of the Year in 2015. He earned a combat action badge as a combat photojournalist in Afghanistan and other joint service accommodations for his efforts in war and as an autopsy photographer at the Armed Forces Medical Examiner System, Dover Air Force Base, DE. Kenny studied photojournalism at Syracuse University and attended The Eddie Adams workshop as a part of the XXVII class. He and his colleague Jensen Stidham co-founded the Military Visual Awards to recognize the best photography and videography work produced by military journalists from around the world.
You can view his website here and follow him on Twitter and Instagram.