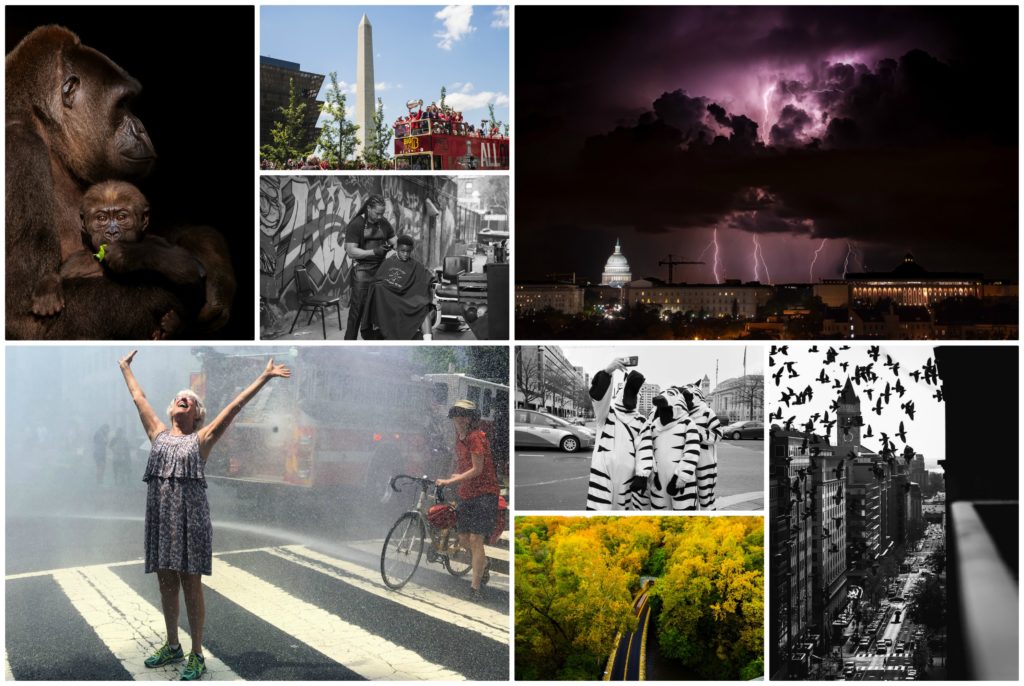 Thank you to everyone who submitted to this year's contest for sharing your work with us! Every year we enjoy seeing this city of ours come alive through your photography which showcases its people, places, art, music, sports, and everything in between. We're proud to feature local photographers of all levels whose images, as seen together, tell the story of living in the Washington, D.C. area. You can find the complete list of winners below. More details about the exhibition and opening reception are available here.
If you recently discovered Exposed DC, welcome! We hope you'll stick around and become part of our community. Here's how to get involved, including contributing images to our daily features, coming out to happy hours, and being part of our other activities through the year.
Speaking of happy hours, join us tonight at 801 Restaurant and Bar from 6-8 p.m. Open to all photographers and photography fans. Our team will be there, so please come and say hello and help us celebrate photography in Washington, D.C. and toast to the winners of the contest!
Save the date for the opening of the Exposed DC Photography Show on Wednesday, February 13 at Touchstone Gallery. We are thrilled to partner with Touchstone Foundation for the Arts to bring our 13th annual exhibition to an awesome, artist-owned gallery located in downtown Washington, D.C. since 1976. We'll have more details on the exhibit and opening soon, but for now, please join us in congratulating the 2019 Exposed DC winners…
Kanayo Adibe – The Tree Amigos
Kanayo Adibe – Here Lies …
Nadia Adona – U Street Cut
LeRoy Armstead – I Know He Will Call
Kirth Bobb – My Neighbour
Robert Cannon – Grecian Urn
Miles Carter – McPherson Square
Shamila Chaudhary – The Fort
Scott Cook – Moke
Brett Davis – Young Patriot
Barry Dunn – Lone Skater
Ginny Filer – Library of Congress
Karon Flage – DC Summer Can Be Joyful
Gabrielle Gipson – Prismatic GLOW
Jimell Greene – Fort Reno at Dusk
Robb Hill – 4th of July
Miki Jourdan – Before The Bubble Burst
Mike Landsman – Caps Win The Cup!
Mike Landsman – Press and Protest
Joseph Leavitt – Electricity on the Hill
Zack Lewkowicz – The Swarm
Geoff Livingston – Pulse
Jenny Markley – Singing in the Rain
Jeffrey Morris – No Props
Angela Napili – All the Starlings Above
Erika Nizborski – Capitals Parade
Victoria Pickering – Pride
Victoria Pickering – The Temple Burn
Jean-Pierre Plé – Geometry Reimagined
Jean-Pierre Plé – Remembering the Light
David Posey – Standing Room Only
Eric Purcell – Love In Progress
Mukul Ranjan – Catharsis
Diriki Rice – Dazzle
Michael Ryan – Rock Creek
Susan Sanders – Parallax
Sofia Sebastian – Adams Morgan, Washington, D.C.
John Sonderman – Seeing Deeper
Carol Stalun – Ship Passing in the Morning
Chris Suspect – Hyattsville, MD
Christopher Thomas – Glass Half Full
Arpita Upadhyaya – Where's the Capitol?
Kevin Wolf – Nuisance Flooding