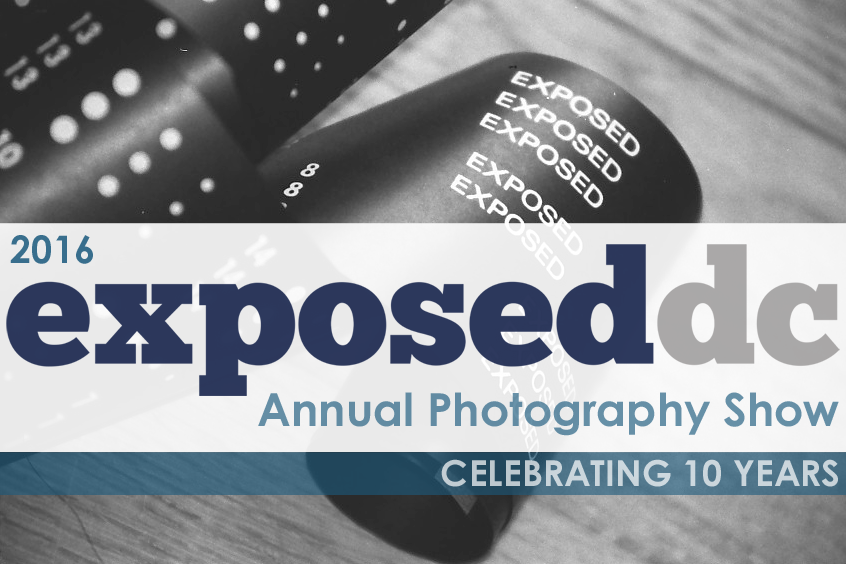 Are you ready to celebrate 10 years of photography with Exposed DC? We've put together a huuuuge party for everyone with local craft beer, great beats, and partnerships with tons of local photography groups to show everyone just how awesome the D.C. photography scene is. Get your tickets now!
---
Exposed DC Photography Show – 10th Anniversary Exhibition
– Featuring 47 images of the Washington metro area
– Opening reception: Thursday, March 10, 6 to 10 p.m., Carnegie Library, 801 K Street NW
– Exhibit hosted by the Historical Society of Washington, D.C.
– Local photography groups will provide entertainment and activities in the ballroom
– Exhibition Magazine and Poster: 10th year commemorative editions available for purchase
– Best in Show Awards chosen by a panel of distinguished local photographers
– Beer provided by Bluejacket Brewery; Beats by DJ Neville C.
– Advance tickets: Adult $35 / Under 21 $20 / 12 and Under FREE
– Door tickets: $45 / Under 21 $30 / 12 and Under FREE
– Cocktail attire suggested
– #exposeddc #xdc
---
Exposed DC is excited to announce its 10th annual Exposed DC Photography Show hosted by the Historical Society of Washington, D.C. from March 10 to April 1, 2016, on the second floor of the Carnegie Library.
These 47 winning photographs were chosen from a contest for their unique view of the Washington area – not as a political venue or tourist destination, but as a place where we live and work and love every day. Five of those photographs will be awarded our Best in Show prizes, each one chosen by a panel of distinguished metro-area photographers: Lucian Perkins, Susana Raab, Lauren Stockbower, Yodith Dammlash, and Carolyn Russo.
To celebrate a decade of amazing local photography, the Exposed DC opening reception will be held throughout the Carnegie Library; cocktail attire suggested. We're showing our commitment to fostering photography for all skill levels and pursuits by partnering with local photography groups to provide entertainment and engaging activities throughout the Library. We're delighted to be joined by Critical Exposure, Capital Photography Center, Leica Store DC, The Exposure Group African American Photographers Association, IGDC, HOIST Studio and the American Photographic Artists DC Chapter (APA|DC) to help us celebrate the big occasion.
D.C.'s own Bluejacket Brewery will provide their original brews at an open bar; complimentary wine and snacks will also be available. DJ Neville C. will provide dance tunes in the Carnegie Library's fantastic D.C. Map Room.
A full color 10th Anniversary Exhibition Magazine with the last 5 years of winning photos be available at the opening, and online soon. The companion 5th Anniversary Magazine from 2006-2011 will also be available. Designed by Johanna Ostrich.
Exhibit hours: **Please note dates have been updated
Monday-Thursday: 10am-4pm
Fridays: 10am-8pm
Saturday, March 12: 10am-4pm
Closing day: Friday, March 25
All photographs displayed will be for sale. High-res images available upon request.
For more information or media passes, please contact:
Heather Goss at info@exposeddc.com
The Exposed DC Photography Show is a Ten Miles Square production.
Website | Twitter | Instagram | Facebook

The Historical Society of Washington, D.C., is a community-supported educational and research organization that collects, interprets, and shares the history of our nation's capital. Founded in 1894, it serves a diverse audience through its collections, public programs, exhibitions, and publications.
Washington is known throughout the world as a monumental federal city. Less well-known are the stories of Washington's many diverse and vibrant communities. The Society helps make this local history easily accessible to the public to promote a sense of identity, place, and pride in Washington and to preserve this heritage for future generations.