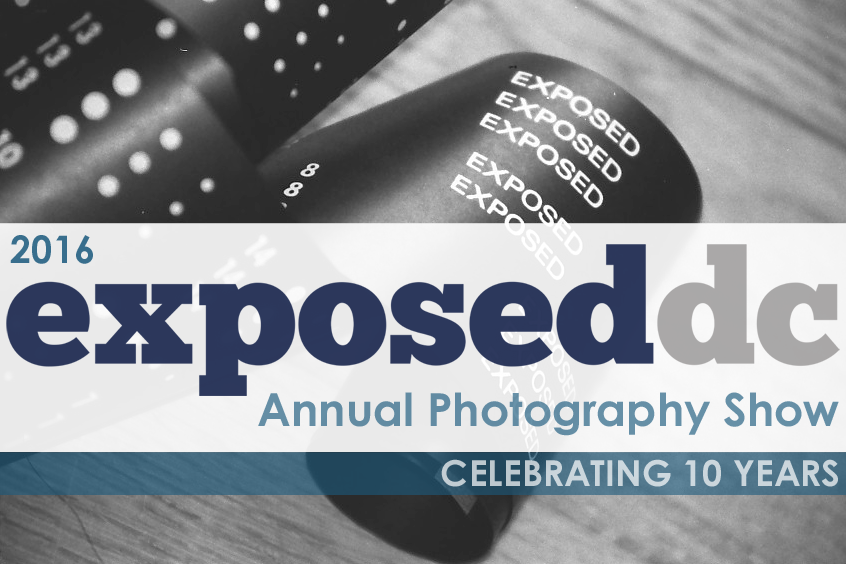 Has it really been a decade? And they said it wouldn't last! Ok, maybe no one actually said that. Regardless, this year we celebrate the 10th annual Exposed DC Photography Show at the historic Carnegie Library at Mount Vernon Square, home of our gracious hosts, the Historical Society of Washington, D.C.
Remember this? (Remember when we only knew you by your Flickr names?) When we started this photo contest and exhibit over at DCist in 2006, we had no idea we'd be doing it 10 years later, but seeing the way the already vibrant photography community has continued to grow over the years has been our biggest pleasure. We look forward to celebrating our anniversary in March with folks who've been around with us since the beginning and all the new faces that have joined us in the meantime.
Mark your calendars now for Thursday, March 10, when we'll host the grand opening reception of this special 10th anniversary exhibit. Meanwhile tonight, January 13, join us upstairs at Jack Rose in Adams Morgan from 6 to 8 p.m. for our monthly happy hour to hang out with fellow photographers and fans, and on this occasion, to toast to the 47 winning photographs of the 2016 contest. Cheers!!

Alexius Wong – Yellow Tide
Amanda Archibald – She Stands Alone
Andrew Golda – Waiting for Touchdown
Andrew Golda – Reflections on a Shave
Andrew Pasko-Reader – Potomac River Ice Skating
Andrew Pasko-Reader – Cranes at Sunrise
Angela Napili – Owls Rescued by the Raptor Conservancy of Virginia
Arpita Upadhyaya – Ah! That Morning Light!
Bridget Murray Law – Monument Watcher at Dusk
Chris Suspect – Untitled
Colin Gilpin – Pride
Cristina Guidi – Winner, Winner, Chicken Dinner
David Dettloff – Dana Dreams of Dancefloors
Diriki Rice – Kick Flip
Ellie Van Houtte – Truck Pool
Ellie Van Houtte – Just a Little Burlesque
Ginny Filer – Invasion
Holly Garner – The Wait for Pope Francis
James Wisnieski – Masthead Lights
Jason Hornick – Fish for Sale
Jeff Reardon – Valentine's Day
Jeffrey Morris – First Contact
Jim Havard – Spiraling Down
Jimmy Morris – Braids at DC9
Joe Newman – Fire
John Sonderman – Snowy Marine One Departure
Joseph Gruber – What a Beautiful D.C.
Keith Lane – Hungry
Kevin Wolf – Second Coming
Kristin Adair – Confetti
Lisa Allen – Glen Echo Ghosts
Mark Andre – Light Painting With Planes
Mark Andre – Going Up
Mark Chen – Flags of Our Fathers
Matt Dunn – Untitled
Messay Shoakena – First St. NE, D.C.
Michael Jourdan – Pigeons Wholesale
Michele Egan – Cherry Blossom Street Festival
Noe Todorovich – The Beach D.C.
Paul Jones – The District
Paul Sirajuddin – Ghosts of Metro's Past
Rachel Mooney – Like a Bowling Pin, Knocked Down
Sabrina Watkins – Reflections at Night
Shamila Chaudhary – In the Shadow of Elephants
Tony Ibarra – CityCenterDC
Victoria Pickering – Arsenal of Democracy Flyover
Victoria Pickering – Emancipation Day Fireworks