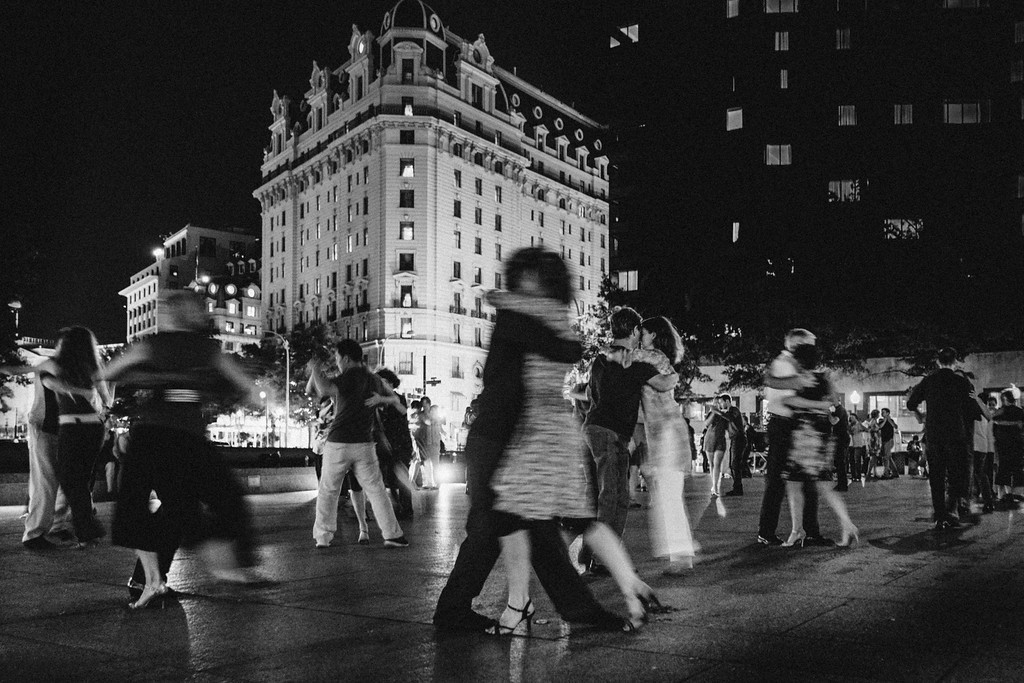 We're proud to share the fifth and final Best In Show prize winner from the 9th annual Exposed DC Photography Show. We invited each member of a panel of distinguished D.C. metro-area editors and photojournalists to choose their favorite photograph from the 42 in this year's exhibit. The five winning photographers will each receive a $100 cash prize from Exposed DC.
Advance tickets are still available for the opening reception this Thursday, March 12.
Today's Best in Show winner is the splendid "Summer Tango" by Messay Shoakena. His photo was chosen by judge Randall Scott, owner of RandallScottProjects, a contemporary fine art gallery based in Baltimore, Maryland:
A very nice photograph that allows movement in anonymous subjects to relay feeling.
---
Exposed: Did you stumble upon this scene or had you known about it ahead of time and planned to shoot it?
Messay: This scene was pure coincidence. I happened to be riding my bike on Pennsylvania Avenue in D.C. on a Sunday evening and I heard the sound of Tango music blaring out on Freedom Plaza along with what appeared to be couples dancing together. Of course I had to stop by to investigate and get some pictures. I later found out this is a regular Tango meetup that occurs at the same location during the summer weekends.
Was it handheld or did you use a tripod or other support device?
The photograph was captured handled. I rarely use a tripod.
How often do you have a camera with you?
All the time. I don't leave home without one.
What's your favorite camera to use for street photography?
I don't have a single favorite camera for street photography. I like to experiment with different tools and carry a camera depending on what I plan to shoot for the day. Sometimes it's just what I end up grabbing before I leave home.
However, for a majority of my street work I use a Ricoh GR. It's small, pocketable and can be operated with one hand.
For serious street photography work I use several Fujifilm mirrorless cameras and also a Nikon F3 or a medium format camera for more formal street portraits.
How did you decide which images to enter into the contest? What made you choose this photo?
It's an arbitrary choice but as a basic rule I try to showcase a photograph which represents my vision and creativity. I search for photos that have an interesting or complex composition and ones which have some sort of an emotion. I try to avoid cliches if at all possible.
I like this photo for two reasons. First for its imperfections. The slow shutter speed creates the motion blur among the dancers and gives the scene a modicum of a festive and joyful moment.
Secondly, it showcases Washington, D.C. in a different narrative than what we're normally accustomed to hearing. This city has a reputation for being full of boring  politicians in grey suits when in fact it's also full of vibrant cultures and people from different backgrounds . I feel like this photo is a representation of that.
***
Check out more of Messay's photographs on his website.