Photographer Brian Knight has spent the last fourteen years involved in sporting events. He has worked his way up from a race volunteer to owner of Swim Bike Run Photography, a business that covers over forty road races, triathlons, adventure races and fun run events a year. A winner of five of the annual Exposed photo contests, Knight shares with us details of the hard work and time it takes to make great race photographs.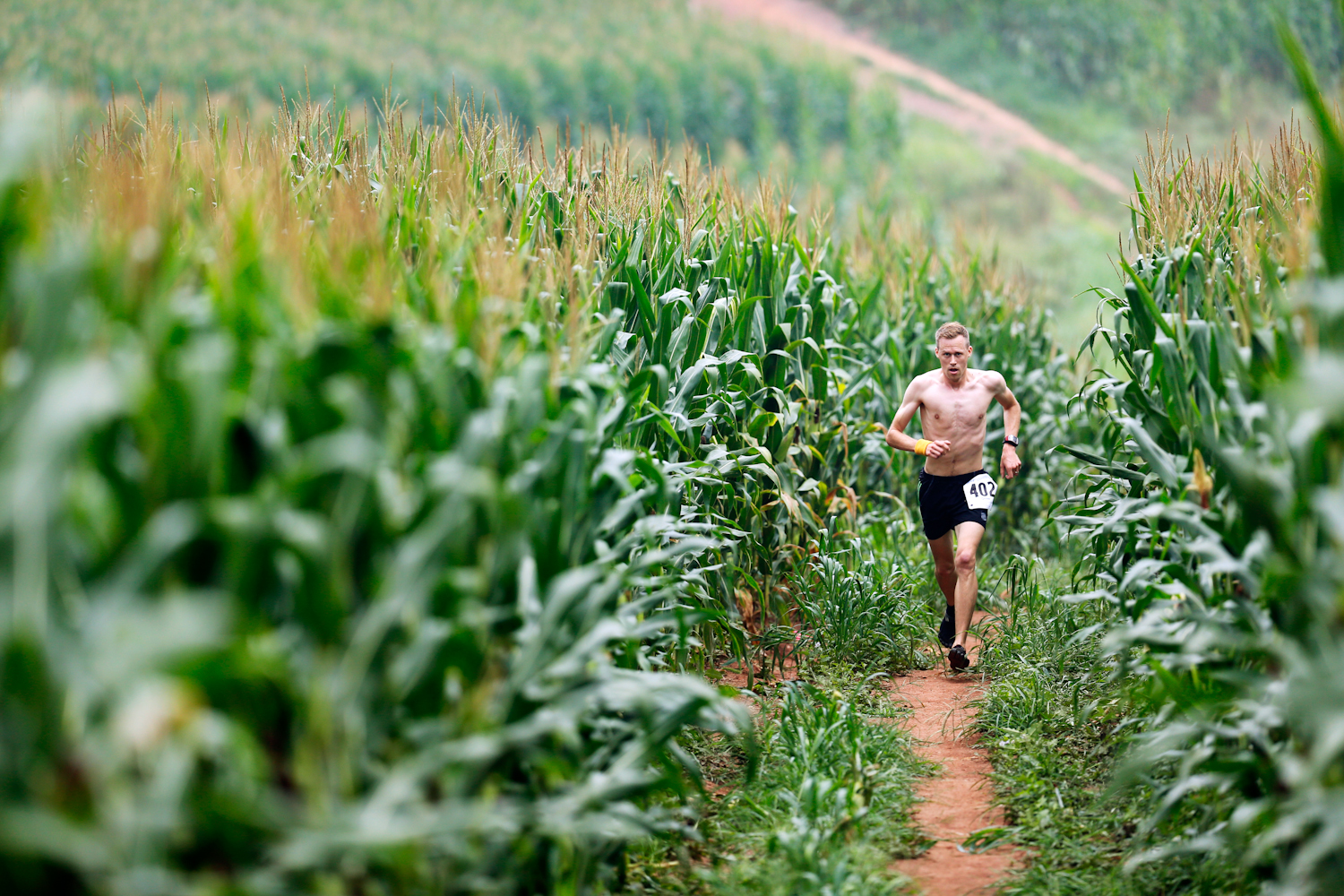 You have chosen to focus your business, Swim Bike Run Photography, on sporting events. How did you get into this type photography, and what keeps you going?
In 1999 I started helping a friend with his new company that produced off-road events like adventure races, triathlons, mountain bike races, and trail runs. What began as volunteer work turned into a second, nearly full time job that lasted about five years. I did a little bit of everything, met a bunch of really neat people, and learned a lot about what it takes to make a race happen. Meanwhile, in late 1999, having never really used a camera before, I walked into a Walmart and bought my first camera, a (digital) Sony Mavica which used a 1.44 MB floppy disk for memory and whose resolution maxed out at 640×480 (no need to count megapixels with that baby). I actually used that camera to photograph the first race that we ever produced. It had a really nice lens and I think it might have held as many as 16 images!
After five years of race production I was a little burned out and was looking for a change. I still loved going to the events and by that time I'd upgraded cameras once or twice and was now using the original Canon Rebel DSLR. I asked our race photographer, Will Ramos, if I could shadow him and he took me under his wing and we started covering races together. For about two and a half years I took all of the time and energy I'd been putting into race production and used it to learn race photography. When Will turned to other pursuits I picked up where he left off and started covering races by myself as Brian W. Knight Photography (or BWKP as my friends started calling me).
A year after going it alone I was at a portfolio review with Mary Virginia Swanson. I had organized my photos into four main groups of Pre-Race, Swimming, Biking, and Running. Ms. Swanson asked me some questions about how I was marketing myself, etc. and basically said, "You should see if Swim Bike Run Photography is available." It was and SBRP was born right there.
For a lot of my life I have been a serial hobbyist. I'll get interested in something, become mildly proficient at it, and then get bored or distracted by something else. I have all sorts of evidence of this: a case full of harmonicas, a couple of guitars, a banjo, a mountain bike, climbing harness, rope, and helmet, kayaks (both white water and ocean), and all manner of camping gear. Something about photography has been different though and actually sparks a drive in me like nothing else ever has. It definitely helps that I've had some success and a lot of positive feedback. I can also pretty much trace all of my closest friendships going back nearly ten years now to people I've met through photography or through racing.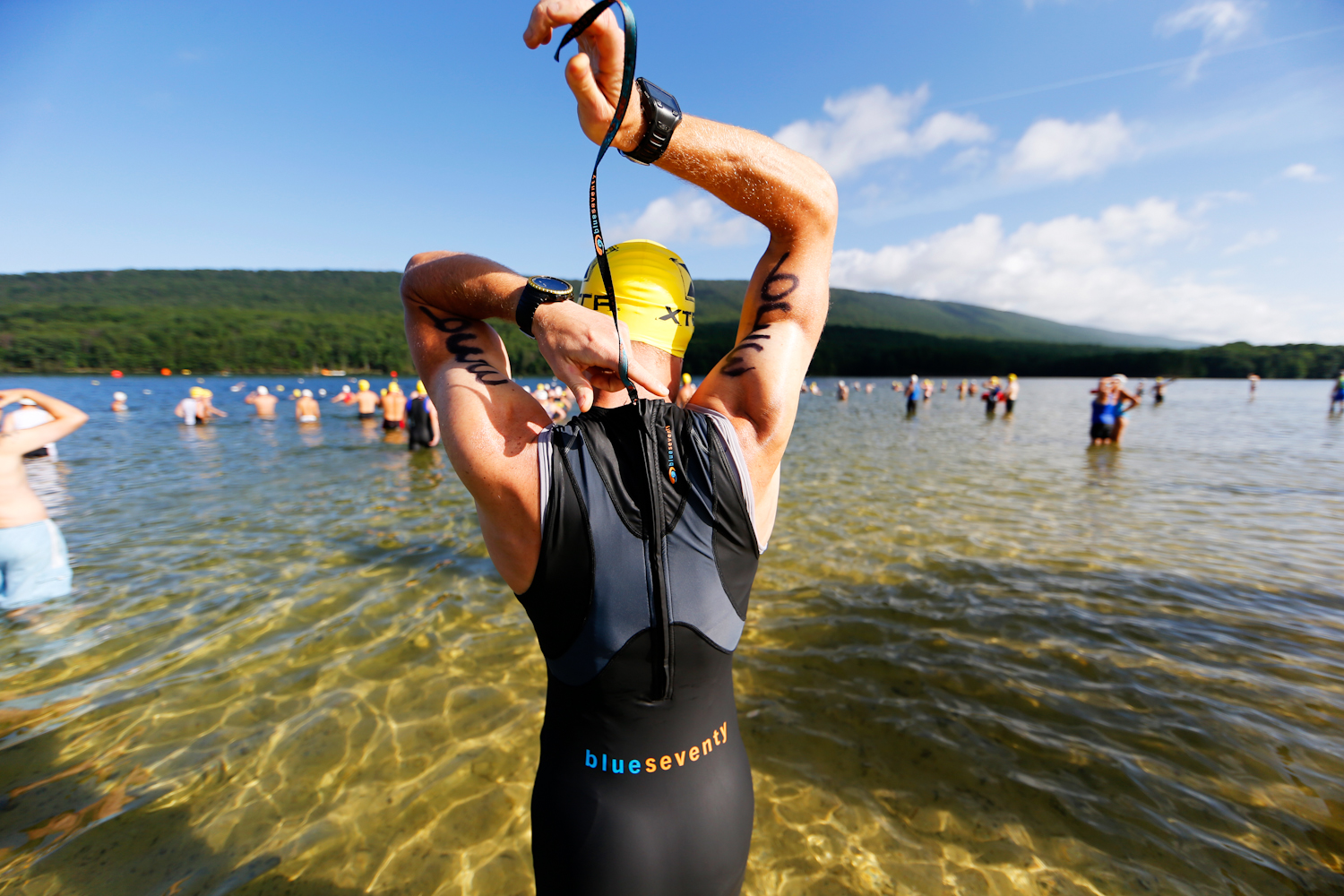 Photographing sporting events, and particularly adventure racing, must put you in very interesting positions in all kinds of weather. Can you share a few stories about the lengths you have gone to to get a photograph?
Most of my work has been in the mid-Atlantic so of course we get lots of chances to shoot in all kinds of weather. About the only thing I haven't really photographed a race in is a heavy snow. But heat, high humidity, light drizzle, intermittent rain, rain, heavy rain, rain that blows sideways, wind blown rain that stings when it hits your body (even through a gore tex jacket), cold, very cold, very very cold? Check to all of those conditions. The majority of my photography happens on foot, but I've also shot from moving boats, cars, trucks, motorcycles, and helicopters.
At one adventure race in West Virginia we had to climb up a rock face, traverse an Indiana Jones style bridge, and then clip into the cliff 150 feet above the ground and wait for racers to work their way across the bridge. Adventure races, by the way, are not like a 5K where everyone runs past you once at a high speed and in an hour or so you're done. No, adventure races are slow, endurance events where the field gets spread apart sometimes by days. We stood clipped into that rock face for 6-8 hours exposed to the late May sun. I distinctly remember feeling like my shoes might melt.
One of my favorite races to cover is the Nation's Triathlon. I love the diversity of the three sports and the variety of platforms that I get to shoot from. To cover that race I've learned how to operate a hydraulic lift that takes me thirty feet up in the air so I can get shots of the 5,000 – 6,000 bikes racked up in the giant transition area. Then I'll get into a little boat that will take me up and down the Potomac river to cover the swimmers. After the swim I'll strap on a motorcycle helmet, drape a couple of cameras across my body and climb onto the back of a motorcycle. We'll zoom up and down the bike and run courses and I'll try to take some no look shots with a wide angle lens.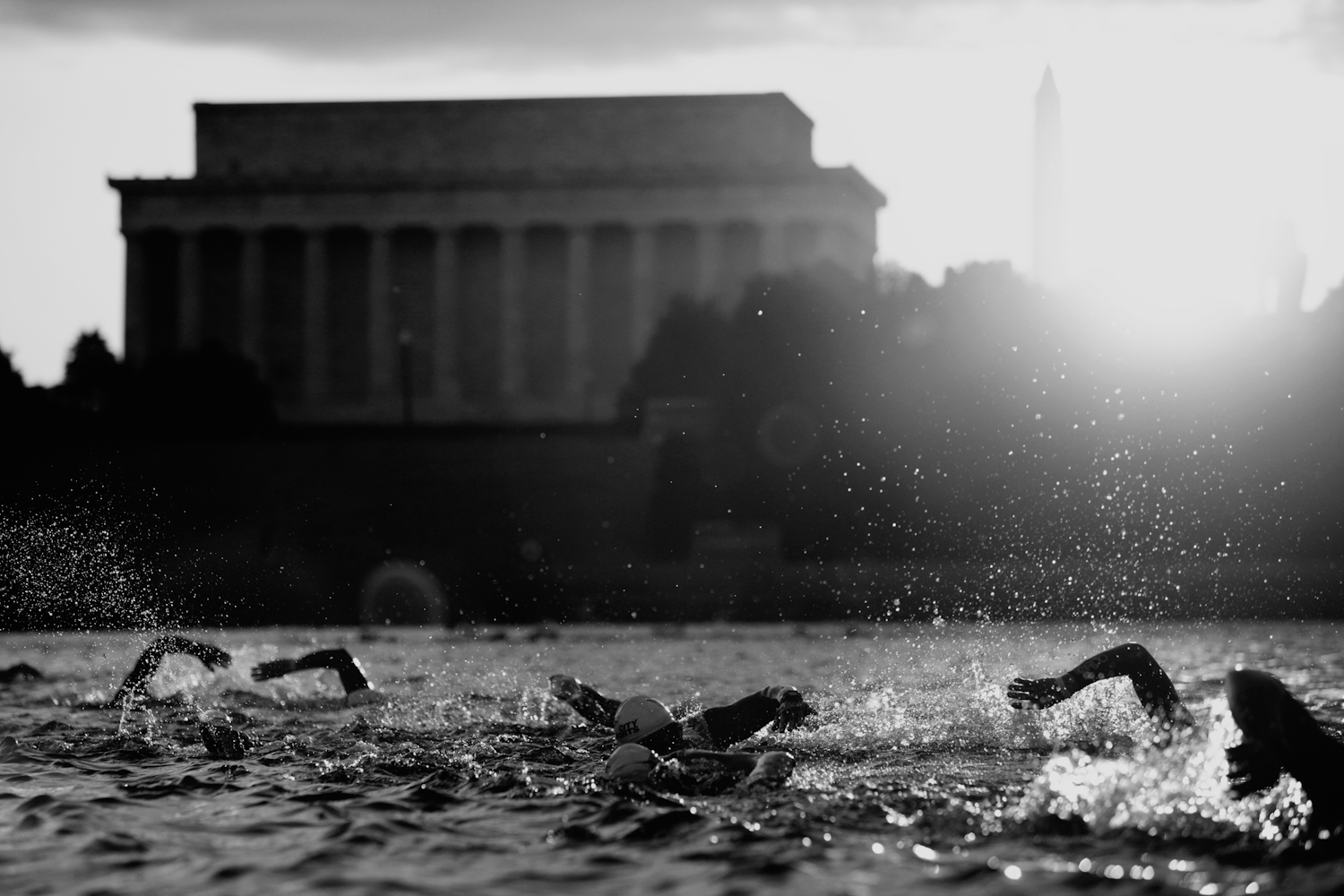 One of the things I love about your work is your compositions because you always seem to find the most beautiful backgrounds for your race photos. How do you select your shooting locations?
The first thing I do is ask the race director if they have any recommendations of shooting locations. They are the ones who have spent hours and hours designing the courses, working on permits, testing running, etc. and generally know the course like the back of their hand. It also helps that a lot of the off-road races I cover are at familiar parks that I know from my race production days.
For the road races, I like to "drive" the race as much as possible with Google Street View and Google Earth. All of those years in Boy Scouts learning how to read maps has paid off because I will often take the map provided by the race company and try to translate it into a loose shooting plan. The online tools aren't perfect though so for new events I will try to do a drive by or walk the section that I plan to shoot from.
And then when it comes to race day, the military historian in me is constantly being reminded that "no plan survives first contact with the enemy." Maybe the course has a slight change from previous years, or there is a tree in your way, or barriers, or police or race officials don't want you standing at the exact awesome spot you'd previously scoped out. You have to be fluid and you have to stop and look at the images you're making because they might not be as awesome as you think they are. Moving five feet up or down the trail or left or right could be the difference between a pretty good image and a wow image. I think this is pretty standard for all photography, but with race photography, when you have a steady stream of runners or bikers coming at you, you might get lulled into thinking that this is The Spot. But you have to be willing to potentially miss someone in order to try the new spot that will actually make a better photo.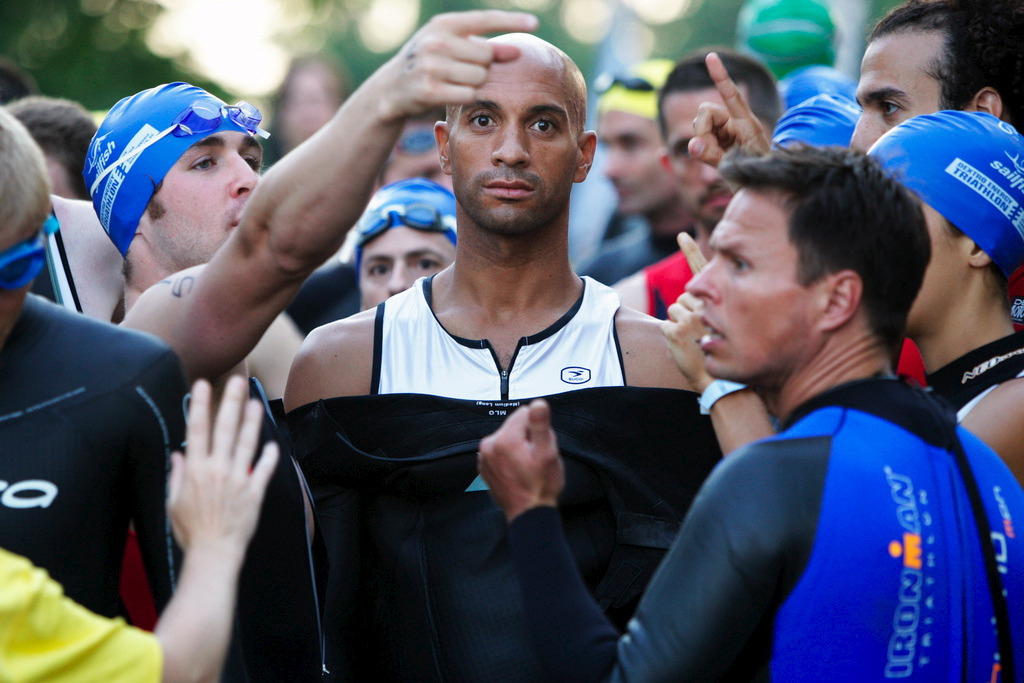 Can you tell us about your pre and post race workflow? How much work is happening during non race times? For example, how many non-shooting hours do you spend on a race?
Since 2008, SBRP has covered 160 events (and we still have another 14 or so races to cover this year). My race "season" now goes approximately from Valentines Day to New Years Eve with about 40+ events a year to shoot. I've been very fortunate to work with two main race production companies that keep having me back over the years and keep adding races to their schedules. I am at the point now where I can actually hire additional freelance photographers to come and assist with the races which allows me to have better overall coverage of an event.
Having more than one photographer though does means more post-production work for me. Pre-race work involves securing contracts with the various race companies. Ideally I do this well before the season starts so I can work out a schedule with my guys. I'm lucky to have two main shooters who can also cover events solo for SBRP when needed. Most of the other pre-race stuff is making sure gear is clean and charged and selecting the right clothes and bag(s) for the event. If there's a chance of rain I'll have to add rain jacket and pants and hat and the waterproof camera/lens covers (all of which means I'll need a bigger bag for the day). Luckily I've got the pre-race routine down pretty good and only need about an hour to double check that things are good to go (by the way, the pre-race routine goes even better if you've followed the post-race routine and put everything away where it belongs, cleaned your gear and charged the batteries, and dumped memory cards).
Following the race we'll break out a laptop and external hard drive and download everyone's photos. This can take anywhere from 20 minutes to an hour depending on the size and length of the race. I will then go home and dump my own cards (which takes about another hour) and either play with the dog or take a nap. Once all of the photos are safely downloaded, I copy them over to main primary computer and open up the folder in Adobe Bridge. Someday I'll take a lesson in Lightroom, but my workflow is pretty well dialed in right now and I've found it difficult to switch in the middle of a "season." All of the sorting happens in Bridge. I should mention here that I also do not shoot RAW. RAW files take up too much space, take too much time to process, and for the most part, high-res JPG files are plenty good enough. I've had my images blown up into floor to ceiling wall coverings and they look just fine.
If I'm really focused then I have been able to sort three to five thousand images an hour. The best way for me to do that is open up Netflix on my iPad and turn on Seasons 1 – 4 of The West Wing. Nothing gets me through photo sorting like Mr. Aaron Sorkin's dialogue. If I end up with 1,200 photos in a gallery, there might be 25 to 75 images assigned as high priority. These are images that instantly stand out as "wow" or are something that a client has specifically asked for, so I can quickly go back and find them. My highest ranking images are reserved for a series, maybe say a series of images that I want to later stitch into a panoramic shot or maybe I caught a terrific crash sequence or an amazing display of finish line projectile vomiting.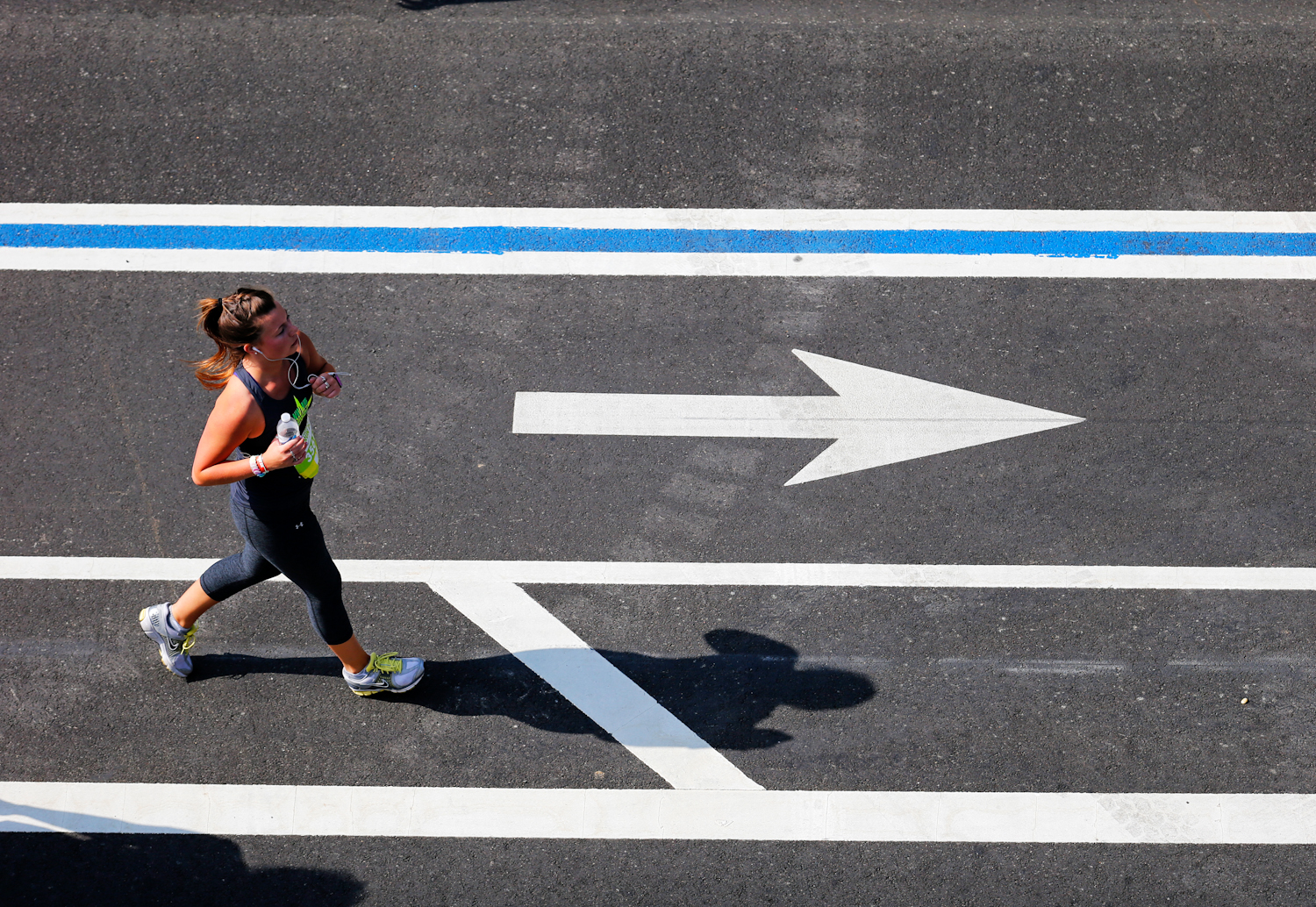 I'll get through the big sort, take a break and then run through it one more time. What I'm looking to weed out are the obviously blurry, out of focus pictures, the repetitive pictures, and the very most terribly unflattering photos, especially of runners. If runners knew what they really looked like when they ran I don't think anyone would ever run again. But of course runners do know what they look like when they run because so many other race photos are just plain terrible. I'm not saying that we take the best race photos of every single person every single time, but I really do take pride in our work and will sometimes err on the side of caution and ask myself "Would someone really purchase that photo?" If the answer is no then it gets deleted.
After the photos are sorted I build an action in Photoshop to do basic saturation and contrast boosts and sometimes color correction. The batch process generally runs overnight and in the morning I'll start the uploading to my photo host. Their servers are in Washington State which means a single race might take eight hours or more to upload. While that is going I'll prepare a post on the website, finalize language on the photo hosting site, and prepare tweets and Facebook status messages. I might also post a preview gallery on the SBRP Facebook page so people know that we are working on the photos and that they are coming soon. I know that if I don't have them turned around within three or four days after a race I'll start to get questions about when the photos will be available (the earliest I've received an inquiry was an hour and a half after the race was complete – I don't think I'd been home for even thirty minutes before someone was asking about where the photos were).
All of this is to say that it takes exponentially more time to get the race photos online than it does to actually cover the event. I might spend two to three hours at a race and then take six to twelve hours sorting photos and then another six hours running the batch process and then another four to eight hours uploading the photos. It takes a lot of time.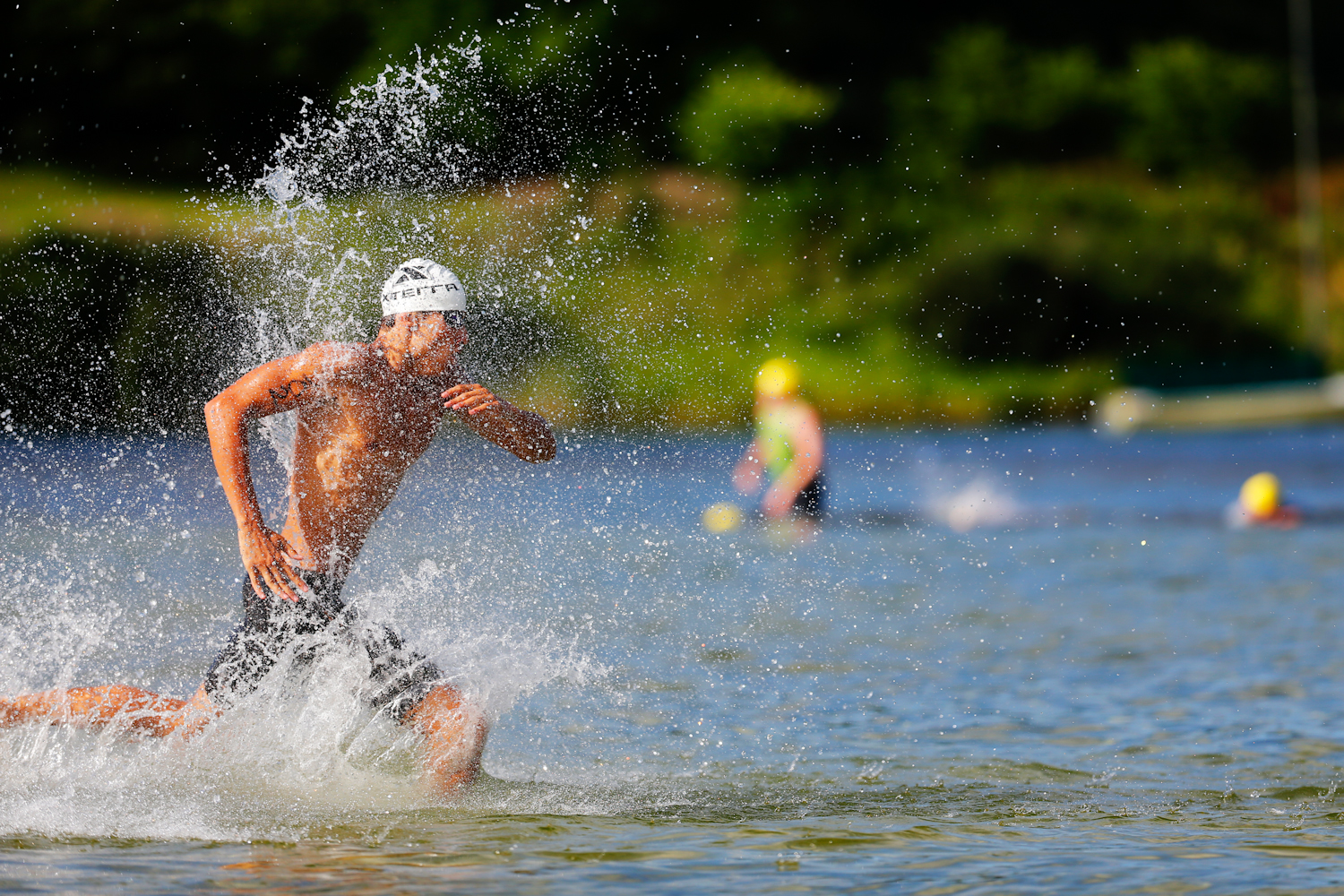 How can people follow your work?
The easiest way to see my work is at the SBRP website. There is also a Facebook page where a lot of previews get posted. The Twitter feed is a little more sporadic and used to mainly to announce when full galleries are available. Sometimes I'll also try to live tweet from events, but I always choose making photos over making tweets. You can follow us here. And of course there is an Instagram feed too which right now is full of puppy pictures from a summer race series that brings out the cutest little pups you'll ever meet.
My photos have been seen in several shows and a few publications (both print and online) including The Washington Post, Shape magazine, Yahoo! News, Backpacker, Competitor magazine, Blue Ridge Outdoors, Metro Sports DC, and DCist.com. Some of SBRP's clients include Pacer Running Stores, EX2 Adventures, and Ragnar Relay. In 2009, the international photography competition, Fotoweek DC, awarded one of my photos from the Nation's Triathlon first prize for Sports Photography.