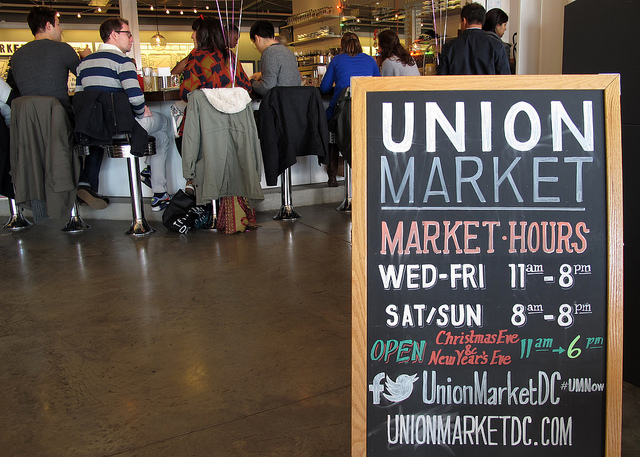 When we launched Exposed DC in June we promised you events with a healthy  combination of alcohol and photography, and it's time to start delivering.
Our first Exposed DC photo walk will take place this Saturday at 2 p.m. at Union Market (driving and metro directions), which re-opened in its most recent incarnation last September. We'll gather at the tables just inside the main entrance and hang out there until about 2:15 p.m. to meet each other and wait for people to arrive. Then we'll wander around the market, enjoying the newly renovated building and the wide variety of local vendors, snapping pics, and maybe you'll end up taking some delicious cheeses, veggies, meats, or spices home with you. Many of us will likely stick together, but for the wanderers, let's meet back up at the tables between 3 and 3:30 p.m. — grab some beverages or food on your way.
This is your opportunity to come out if you've been curious about Exposed DC or the local photography community, whether you're carrying a vintage rangefinder or you just prefer your cameraphone. We're a low key bunch and everyone should have a blast. Don't forget to share your photos with everyone in our Flickr pool afterward.
Need more reasons to come? Here are five more!
Check out gear! Who doesn't like gawking at cameras? We have photographers who shoot with all sorts of film and digital.
Explore a new place through the lens. Get to a new neighborhood and watch your creativity start working.
Network, aw yeah. We're in DC…. you expected something else?! Might as well network with people who like photography.
Try something new. Do you shoot landscapes? Why not try street photography or portraits. Learn from each other and experiment.
Get out of the house for a little exercise and take pictures. Win win.
See you this Saturday at Union Market!