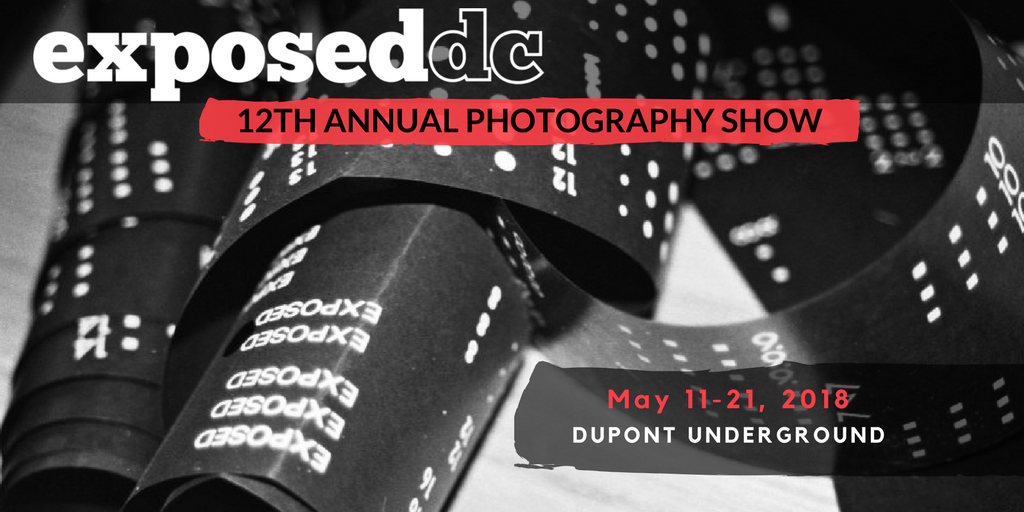 Exposed DC Photography Show – 12th Annual Exhibition
– Tickets for the opening reception on sale now!
– Featuring 40 images of the Washington, D.C. metro area
– Opening reception: Friday, May 11, 6 to 10 p.m.
– Exhibit hosted by Dupont Underground
– Exhibition magazine available for purchase, featuring all the winners
– Best in Show awards chosen by a panel of distinguished photographers
– Advance tickets: $15. Door tickets: $20
**********************************
Exposed DC is excited to announce its 12th annual Exposed DC Photography Show, May 11 through May 21, 2018. The exhibit will be hosted by Dupont Underground, a former trolley station that has been repurposed into an innovative cultural space right in the heart of D.C.
These 40 winning photographs were chosen from a contest for their unique view of the Washington area as more than just a tourist destination and political realm. They showcase and celebrate the experience of the people who live, love, and work here. All photographs will be projected throughout the space, as well as printed by Dodge-Chrome, Inc. for display.
Five photographs will be awarded Best in Show awards, made possible through the support of Union 206 Studios. Each award is chosen by a panel of distinguished metro-area photographers: Marvin Joseph, Lucian Perkins, Carolyn Russo, Sanjay Suchak, and Nancy Walz.
At the opening reception, Dupont Underground will provide a cash bar for patrons over 21. The Beat and the Path will provide music. goARTful, a local startup subscription-based art service that Exposed DC is excited to be partnering with, will also be part of the celebration. Additional thanks to sponsor Capital Photography Center. Please note that use of one flight of stairs is required to access Dupont Underground. Assistance using the stairs can be provided, if necessary.
A full color 12th annual Exhibition Magazine with all 40 winning photos be available online soon and at the opening.
Exhibit hours *UPDATED AND EXTENDED*
Admission is free to view the exhibit during these times; donations accepted.
Saturday, May 12 from 12-5 p.m.
Sunday, May 13 from 12-5 p.m.
Tuesday, May 15 through Sunday, May 20: 12-5 p.m.
Closing day: Monday, May 21 from 5-7 p.m.
Framed, fine art prints of all the photos displayed will be for sale. High-res images available upon request.
For more information or media passes, please contact: Noe Todorovich at info@exposeddc.com
The Exposed DC Photography Show is a Ten Miles Square production.
Website | Twitter | Instagram | Facebook
Exposed DC would like to thank the 2018 show sponsors for their support.