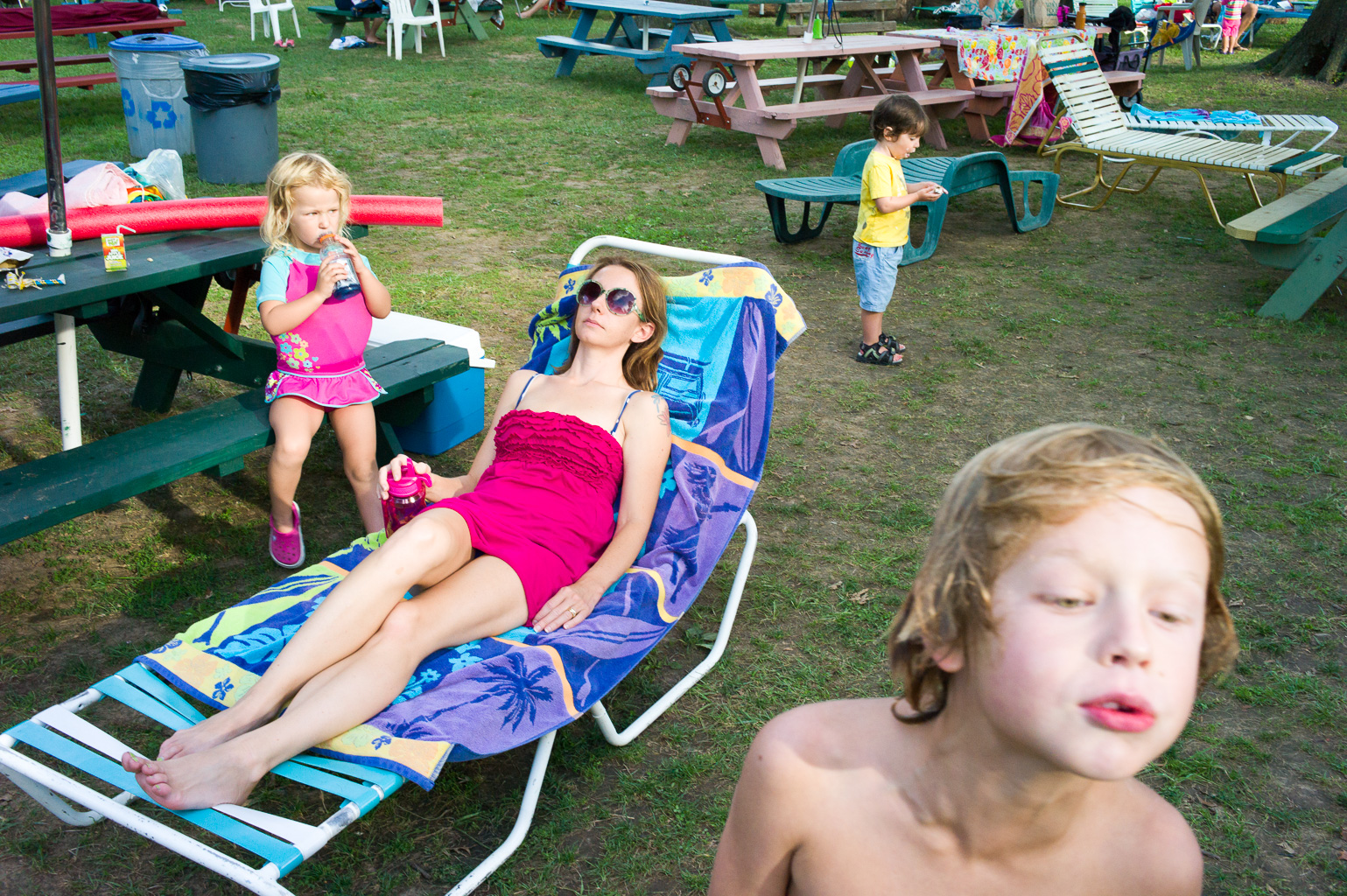 Today is the third of our five Best In Show prize winners for the 10th annual Exposed DC Photography Show. We invited each member of a panel of distinguished D.C. metro-area photographers to choose their favorite photograph from the 47 in this year's exhibit. The five winning photographers will each receive a $100 cash prize from Exposed DC.
We'll be announcing the winners each day this week. Advance tickets are still available for the opening reception next Thursday, March 10!
Our third winner is "Untitled" by Chris Suspect, chosen by judge Susana Raab. Suspect's image, like many of his photos, is a study in composition. The woman at the center of the photo is surrounded by a spiral of chaos, chairs and tables strewn about, and children in various stages of apparent meltdown. Her outfit and pose would be more fitting on a Caribbean beach, but instead she is the calm at the center of a very colorful storm.
***
Susana Raab was born in Lima, Peru and raised throughout the United States. She is a fine-art and documentary photographer working in Washington, D.C., creating personal work in addition to working as the photographer of the Smithsonian Anacostia Community Museum, documenting the East of the River communities in the city.
The heart of her work is a search for the quotidian, archetypical and ordinary: man's relationship with his environment, identity within that construct, and transcendence or evolution. Susana's work has been exhibited internationally and nationally, at venues including: the Corcoran Museum of Art, the Museo de Arte Contemporaneo in Madrid, the Pingyao Photo Festival, Noorderlicht Fotofestival in the Netherlands, and the Art Museum of the Americas in Washington, D.C.
Susana has been the recipient of the White House News Photographers' Project Grant, a DC Commission on the Arts and Humanities Artist Fellowship, Honorable Mentions in Center's Project Competition and Curator's Choice Awards, and a Puffin Grant, among others. Her work is held in the collection of the Smithsonian Institution's Museum of American History, The Library of Congress, Division of Prints & Photographs, The Art Museum of the Americas, The EnFoco Collection, and the DC Public Art Bank.