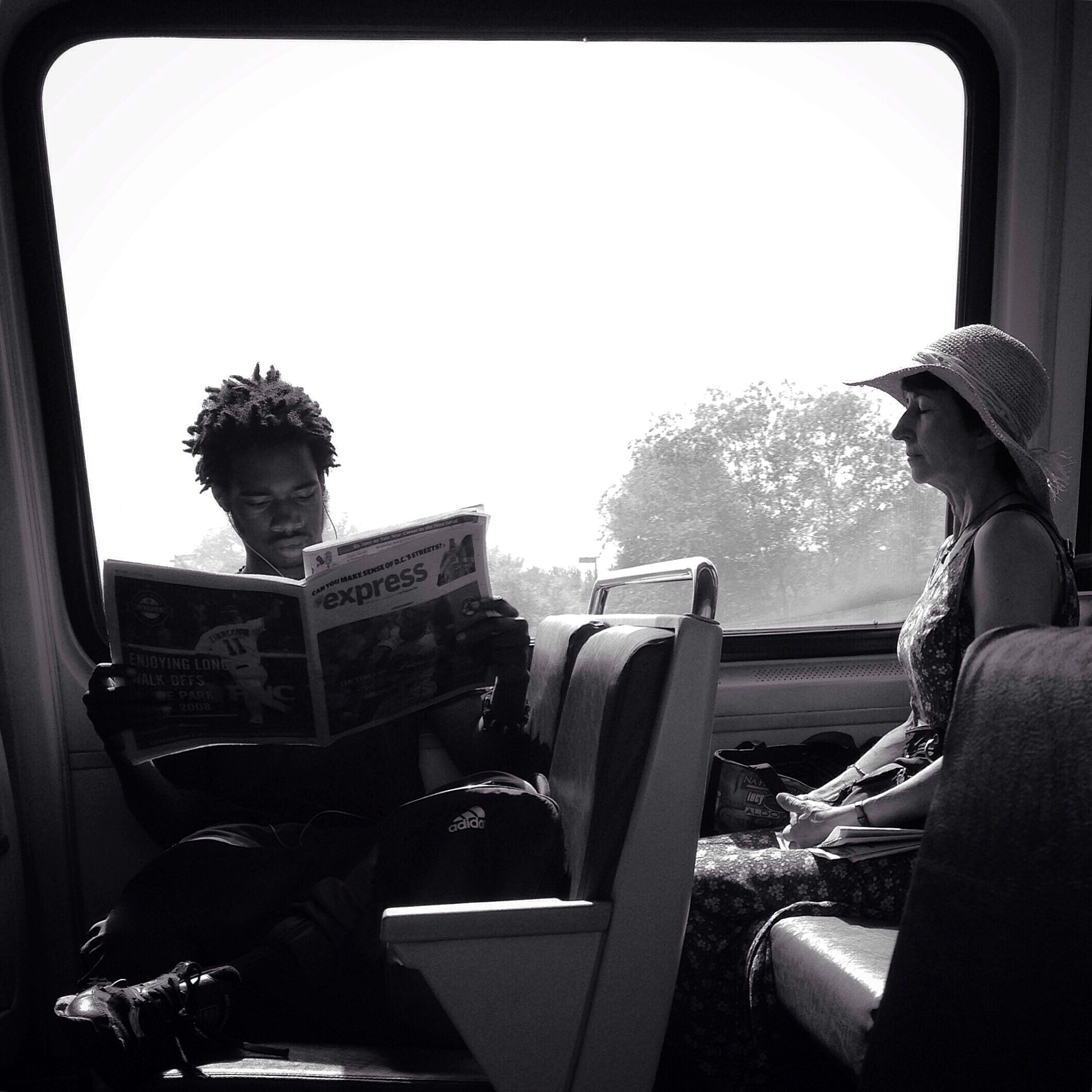 Now for the second of our five Best In Show prize winners for the 10th annual Exposed DC Photography Show. We invited each member of a panel of distinguished D.C. metro-area photographers to choose their favorite photograph from the 47 in this year's exhibit. The five winning photographers will each receive a $100 cash prize from Exposed DC.
We'll be announcing the winners each day this week. Advance tickets are still available for the opening reception next Thursday, March 10!
Today's Best in Show winner is "Ah! That Morning Light!" by Arpita Upadhyaya. Her photo was chosen by judge Yodith Dammlash. On the surface Upadhyaya's photo is a simple scene of two people traveling via Metro, one which occurs thousands of times a day, every day. When you look a little deeper though, you see the contrast in the subjects. Beyond the obvious differences in race and gender, the two riders are experiencing their trip in very different ways. The man is consuming media — both the newspaper and audio via his headphones — occupying his mind with outside influences. The seemingly meditative pose of the woman conveys that her mind is occupied from within, enveloped in her own thoughts. These differences are further shown with their distinctive body language. The result is two people who may be extremely close in proximity, but are very dissimilar in many other ways. Enjoy more of Arpita's work on her Flickr  and Instagram feeds.
***
Yodith Dammlash is a photographer and archivist based in the D.C. Metropolitan area. She received her BFA in Fine Art Photography from the Corcoran College of Art and Design. Yodith's professional and artistic works have been featured in exhibitions and in online and print publications, most recently Nueva Luz Photographic Journal and Rooted In Magazine. Her photo-based work explores her own Ethiopian-American ancestry through the lenses of womanhood and collective memory.