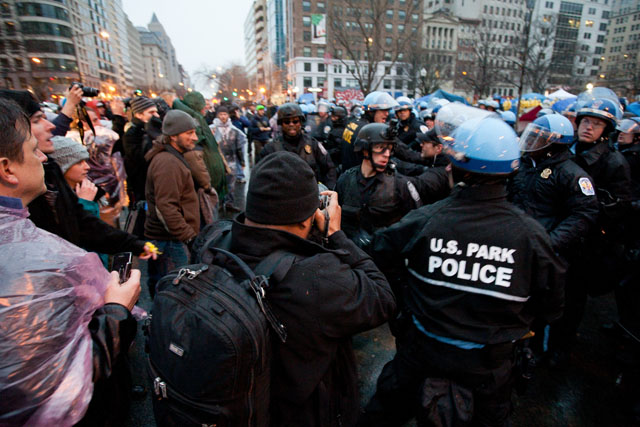 Last Saturday, Baltimore police arrested Noah Scialom, a contributing photographer to the Baltimore City Paper, while they were breaking up a Halloween party. Scialom, as he reports, had identified himself as press and began photographing the incident. He left the house with the other party goers until he reached the sidewalk, and continued to take pictures, when he was roughly taken to the ground and arrested.
It's a familiar story to anyone who regularly uses a camera in public, and a source of constant tension between police and the press, between the needs of security and the Constitutional rights of citizens. The National Press Club held a discussion in October on the subject as part of their Free Speech Week, inviting photographers, lawyers, and even a representative from the D.C. Metro Police Department to share their thoughts.
So what rights do you have to record in public? While the answer seems straight-forward to most of us (if it's in the public realm, we can record it), the courts are only just beginning to define the right through rulings. But this first step is great news for photographers. The nation's founders probably didn't predict the prevalence of smartphones in 2013, so having defined rules about how the First Amendment applies to modern-day recording devices benefits everybody.
The panelists discussed a few important cases that are molding this area, including Garcia v. Montgomery County. Mannie Garcia and his lawyer, Robert Corn-Revere, were both on the panel. Garcia happened to be nearby when the police began to arrest two men. Concerned the police were using excessive force, he took out his camera and began to record the incident, backing up to 100 feet away while he did so. When the police, one of whom "was visibly upset" with being recorded, noticed him, Garcia was put in a choke-hold, placed under arrest, and had his camera's video card seized. Garcia has filed a civil rights claim over his wrongful arrest (in addition, he suffered injuries, and lost his White House press credentials because of the charges).
The good news is that photographers and their supporters, like the National Press Photographers Association, are no longer alone: The U.S. Department of Justice is now stepping into photographer rights cases. In Garcia's case, the DOJ filed this 13-page Statement of Interest, which refers to Sharp v. Baltimore City Police Department, a case ruled upon in January 2012 in which a photographer was arrested for filming the police and had those videos and some personal videos deleted from his camera. As the DOJ reiterates, Sharp ruled that:
… individuals have a First Amendment right to record police officers in the public discharge of their duties, and … officers violate individuals' Fourth and Fourteenth Amendment rights when they seize such recordings without a warrant or due process.
The Statement continues, insisting the court recognize that trumped-up charges are put upon photographers to get around the fact police can't arrest them for recording, and produces a chilling effect:
[T]he United States is concerned that discretionary charges, such as disorderly conduct, loitering, disturbing the peace, and resisting arrest, are all too easily used to curtail expressive conduct or retaliate against individuals for exercising their First Amendment rights. The United States believes that courts should view such charges skeptically to ensure that individuals' First Amendment rights are protected.
And just in case you're wondering if these First Amendment rights apply only to the press, the 2011 ruling in Glik v. Cunniffe reads clearly:
The First Amendment right to gather news is, as the Court has often noted, not one that inures solely to the benefit of the news media; rather, the public's right of access to information is coextensive with that of the press.
Okay, that's great. The courts get it. Even the DOJ gets it. But how will that translate into the everyday practice of photography and relations with police? We could probably start by asking Noah Scialom how it's going in Baltimore, but actually, here in Washington, D.C. changes are happening.
The panelists were unanimous in their opinion that D.C.'s police chief Cathy Lanier is leading the way in changing the culture of how police deal with photographers. Last summer she issued guidelines to officers that explicitly state the right to record, given as part of a settlement with a photographer who was detained by police in Georgetown while taking pictures of a traffic stop in 2010.
Though as panelist J. David Ake, the assistant chief of Bureau for Photos at The Associated Press, noted, "There aren't as many incidents with local law enforcement," but rather, "the bigger problem is the security blanket." His photographers run into the most problems when filming power plants, the airport, or the metro, where the absurdity doesn't register that a person taking images in full view could be a danger when voluminous photos, information, and Google Earth images are available to anyone online. Most photographers in D.C. know someone who's been stopped while filming a federal building — sometimes unknowingly — despite the Department of Homeland Security issuing a bulletin affirming photographers' right to do so.
As most of us know, sometimes it's impossible to know who's even in charge, whether you're at Union Station, where they couldn't even figure it out for themselves, or a D.C. Taxi Commission meeting, a local public meeting where two journalists were arrested for filming by National Park Police in 2011. The video of the taxi meeting is on YouTube, where, attorney Corn-Revere noted that you can search "arrested for photography" to find an unending supply of examples.
There aren't a lot of answers for photographers right now except to wait for the culture to slowly come around. Soon many police will be carrying cameras of their own. Panel moderator Mickey H. Osterreicher, general counsel for the NPPA, states what one would hope to be obvious, "If you're going to be recording, you can't really be upset with other people recording."
So what if you are stopped? Stay calm, Ake says. If you get angry or raise your voice, you raise the risk of the officer "interpreting" it as disorderly conduct. Tell the officer you have a right to record and that they have no expectation of privacy in public. And keep rolling so at the end of the day you have your footage as evidence.
And what are your rights regarding your images? Panelist Timothy Mygatt, special counsel at the Justice Department's Civil Rights Division, says "The Constitution is clear: [Police] need a warrant before taking photos under all normal circumstances." Under exigent circumstances law enforcement can seize the recording without a warrant, for example, to preserve evidence, but Mygatt notes that is "a narrow, still evolving exception."
And lastly, what are your responsibilities? As with any law, police can impose reasonable time, place, and manner restrictions — for example, if you really are in the way of police performing their duties. Or as Gwendolyn Crump, director of the communications office for the MPD, aptly put it: "Some good advice is, don't be a jerk." Wisdom for everyone.