This is your last call to get advance price tickets to tonight's big celebration for our 10th anniversary! If you've missed the cut-off, you can still buy tickets at the door (for just a few bucks more!) Join us for great photographs, open bar with beer by Bluejacket, a live photo booth and more from our many D.C. photography partners. Remember that guests under 21 can get discounted tickets and kids under 12 get in free. See you tonight!
A New Way to Learn More About — and Purchase — Art at Exposed 2016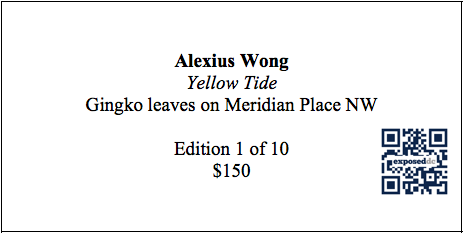 We are very excited to announce the launch of a new way to purchase the winning images in the 2016 Exposed DC exhibit. At the gallery, each artist's work will be labeled with a QR Code that you can scan with your phone. This will open a link on your phone's browser to more details about the work and the artist, including the artist's website and social media. You also will have the opportunity to purchase the item right there – instantly!
Don't worry, you can also purchase artwork the old fashioned way with cash or a credit card at the gallery. If you are not able to make it to the opening, all photographs are available to purchase at our online store. One thing hasn't changed: These wonderful images of the D.C. metro area are all at reasonable prices for first time art patrons!
Need a Free QR Code Reader?
For iPhone
Download QR Code Reader by Scan
For Android
Download QR Code Reader by Scan
For Windows Phone
Download QR Code Reader