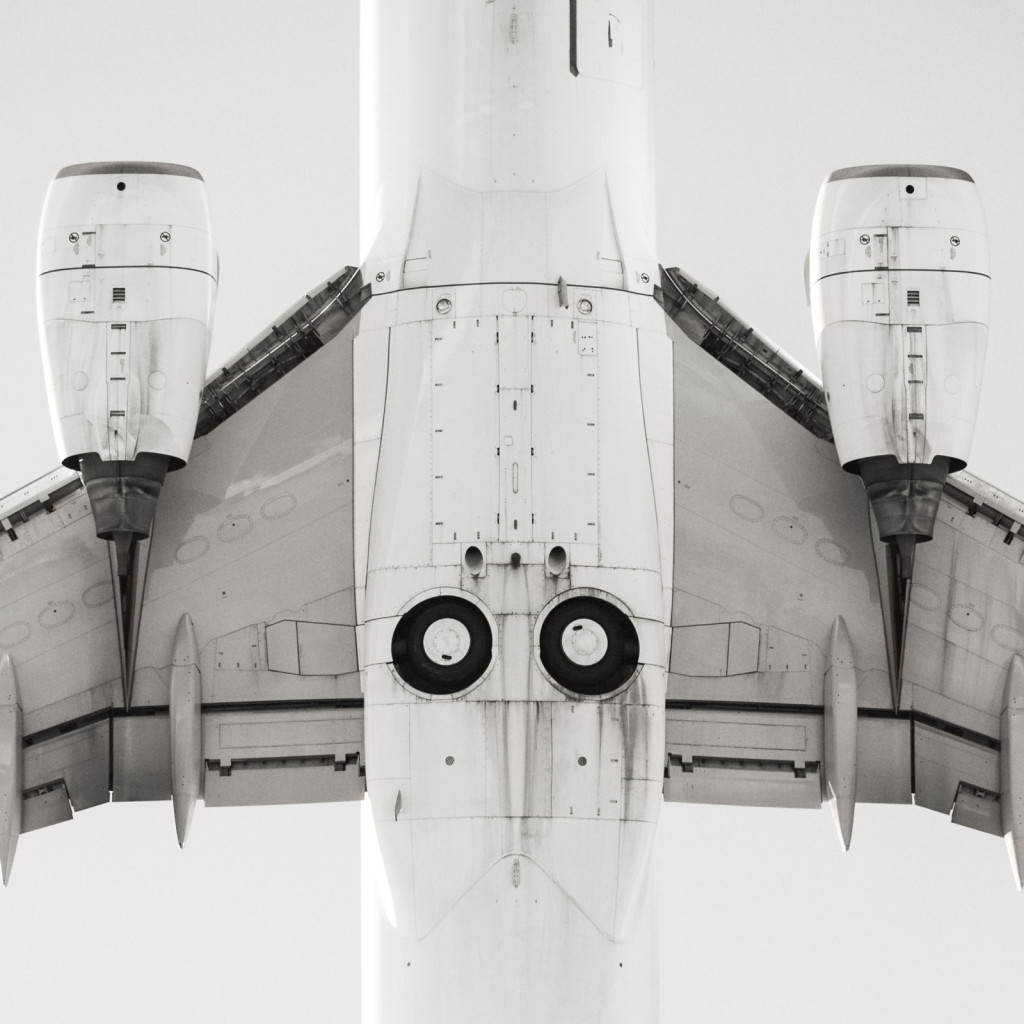 Photography by Chris Williams
This Friday May 8, WWII planes are flying over the National Mall. To enjoy the sky parade, Exposed DC is hosting an event around the Jefferson Memorial. Photographing airplanes flying in the sky can be complicated—timing is everything. To help anyone bringing their camera down to the Mall, I asked aviation photography expert, Chris Williams, who also taught our Knowledge Commons class at Gravelly Point last fall, a few questions about his craft and to share a few tips about capturing great aeronautical images.
Williams is a professional wedding and event photographer living in Capitol Hill. His personal projects are driven by his adoration of airplanes; "whether it's driving near an airport in D.C., taking a detour to an air force base in South Dakota, or stopping along a dirt road in Mississippi watching crop-dusters, I love observing and photographing aircraft." As a child his family moved and traveled through five continents, so for him, "Flying just seemed to be a normal way to get around, always looking for the next adventure. I was always impressed that an object this large and heavy could take off into the air and not fall straight to the ground. It was exciting and relaxing at the same time."
Though, Williams describes planes as "mechanical miracles," he also anthropomorphizes them; "Aircraft remind me of birds and fish. They move fast, really fast, some supersonic, yet for that brief observation I can see details, the structure of the wing or the tail, or the fin. The flaps and the spoilers are the scales, the feathers. And then in a split second it's all blurred and the machine rushes by, engines roaring, blood-curdling wail. That's what I want to capture, the movement, the in-air dance of flight."
In some of Williams' images, the corporeality is visible by slowing his shutter speed. His camera, like a fishing pole, baits the swimming jet and catches the image into his frame.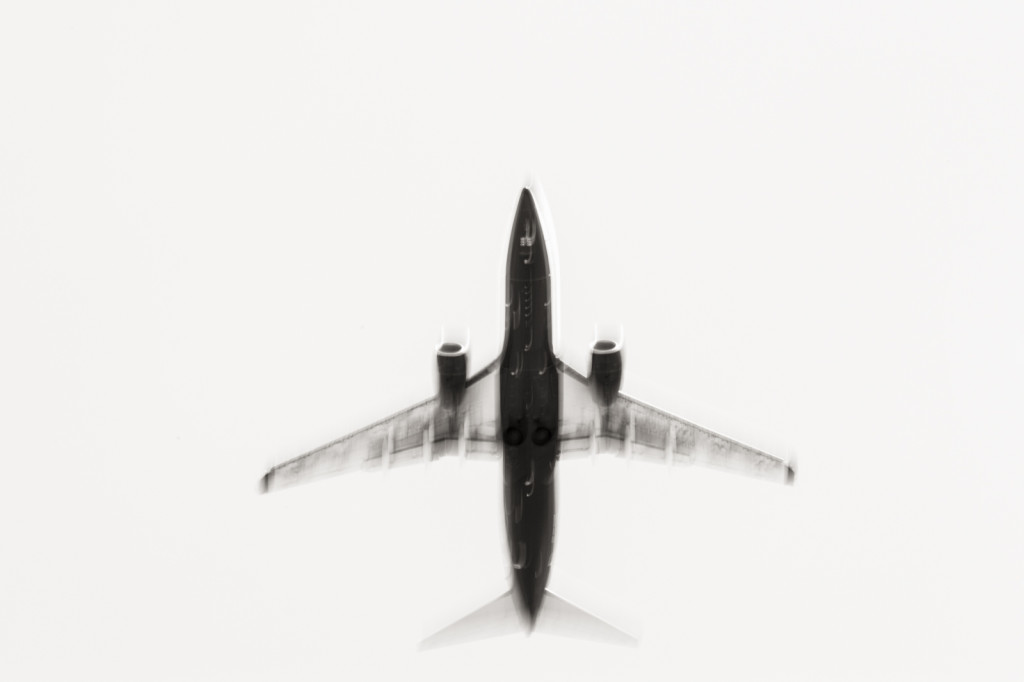 Many of Williams' images are simple and graphic. They are still and sharp—illustrating the multifaceted details from the planes' underbelly. The stark evenness of his exposure pulls a loud and heavy machine—that soars through air—into equilibrium. He wants to "represent them more as a figure or character, more than just showing an airplane. The detail underneath is really fascinating, so many lines and structures coming together as one object."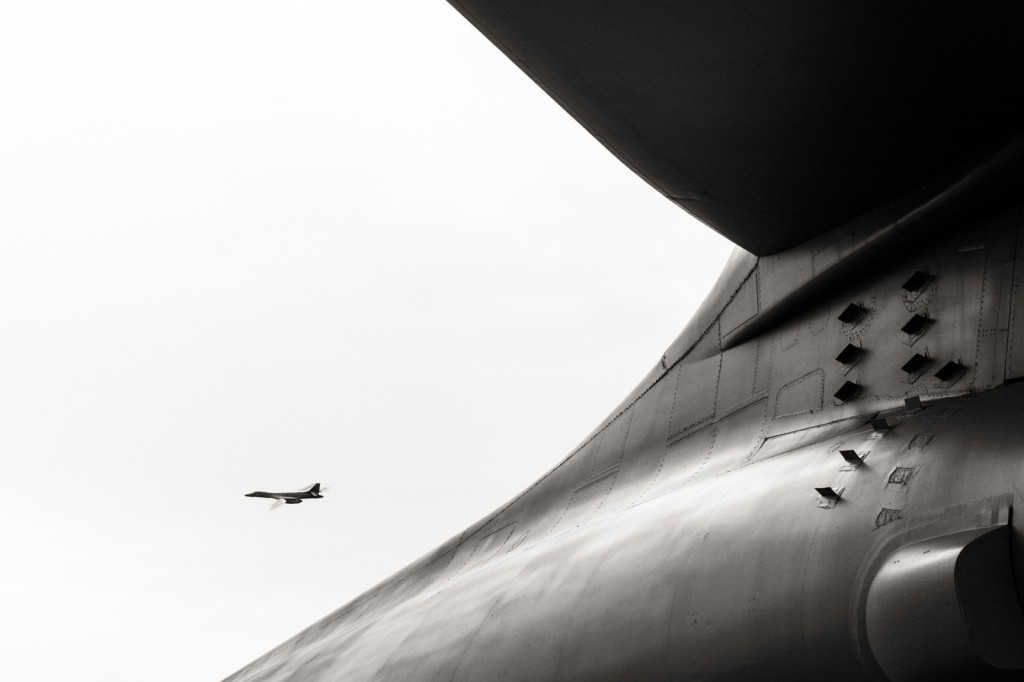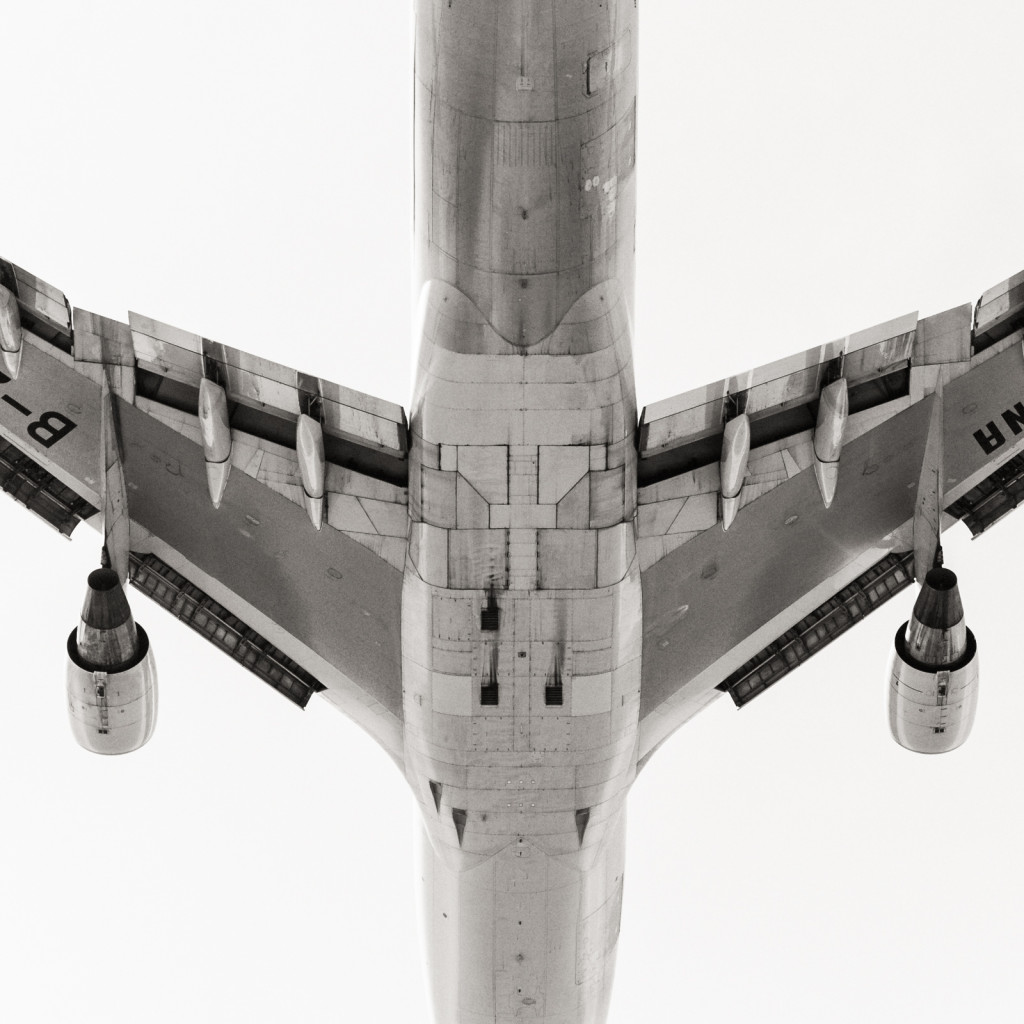 Williams does not believe there is a perfect aeronautical photograph. He remembers his first skydiving experience last year, "While going through the basics of skydiving you had to watch a video. On the video there is a statement 'there is no such thing as a perfect airplane, otherwise why would one jump out of it?' I think the great thing about not creating the perfect airplane image is I can create over and over again. Forget the rules. You don't need them. I was once told one of my helicopter images was not very good because the blades were not spinning. Who cares? I love that there is no manual for photographing airplanes."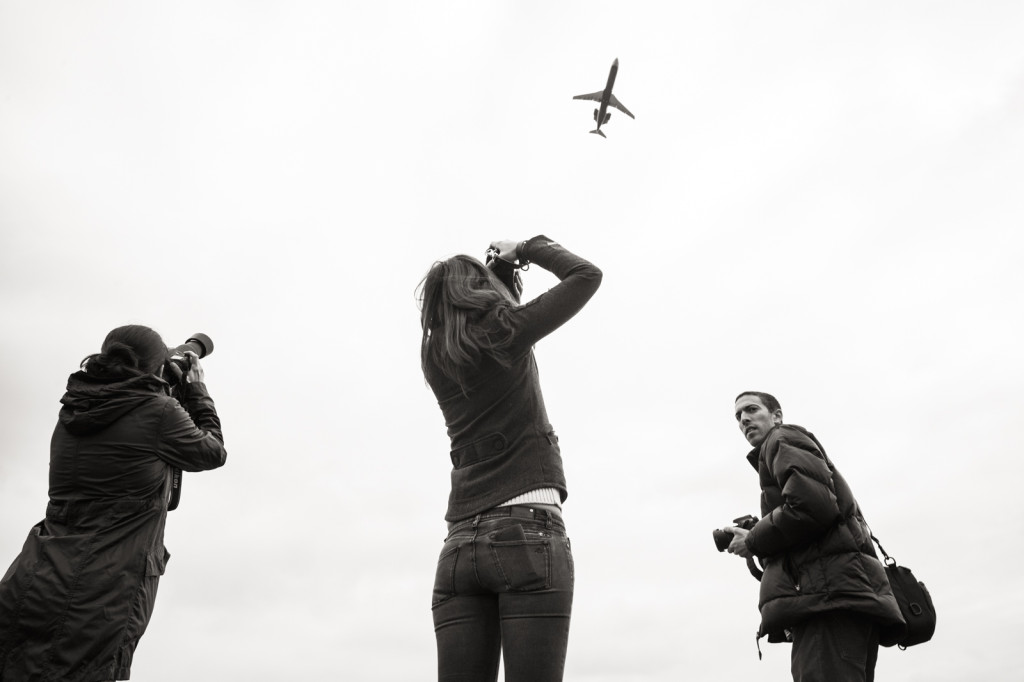 Chris Williams' tips for aviation photography: 
His typical gear:
Leica M9 with 21mm, 90mm and 135mm lenses.
Fuji XT1 with various lenses including the 50-140/2.8
Do you want to freeze the aircraft in flight? Use a telephoto/zoom lens. A 70-200/2.8 or even longer is best. Use the fastest shutter speed possible in the light you are working with. 1/4000th sec is a good starting point. Keeping your aperture wide open (f2.8, f5.6) allows you to use faster shutter speeds. Remember an airplane is going over your head at around 150 mph so if your camera will not AF track fast enough, try using manual focus and set the lens at a certain distance where the aircraft is coming overhead.
Want to add some movement to the aircraft? Reverse the first technique. Use slower shutter speeds. 1/30th of a sec is a good starting point. Many times I am using 1/8th sec shutter speeds. Apertures of f16 or higher and a low ISO rating (100 or 200) need to be used to avoid way too much overexposure. If your lens has image stabilization, make sure to turn it off. If the light is too bright for such slow speeds, try using a Neutral Density (ND) filter on your lens.
Composition: Try using objects in the foreground for depth such as people standing nearby watching the planes come in. A wide lens (28mm or wider) is great for this. For flying over the Mall or Tidal Basin, try using the Washington Monument in the background.
Or forget outside composition: try getting certain angles of a plane, perhaps just the wing or belly of the plane as it flies overhead.
Use an app. Flightradar24 is a good app to use on a phone or tablet. It shows you what aircraft is approaching or leaving an airport so you don't have to worry about how long you may be standing there waiting. This will not work on older planes though since they will most likely not have transponders for the app to track. Not to worry with WWII aircraft, you are going to hear them!
Tripods in D.C. Yeah they are usually a no-no. However with the WWII flyover taking place at around 1,000ft, if you use a fast enough shutter speed, you really don't need a tripod. I never use one myself when photographing aircraft. A friend's shoulder or back will work as well!