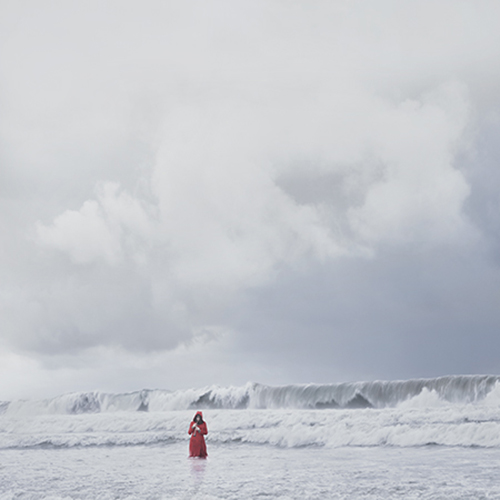 Chris Anthony's Venice, showing at Randall Scott Projects through February 22, is an exploration into photography as an ambiguous narrative—the beauty of the images isn't what they seem. He's trying to create a story through a type of stage production, where the viewer is given the actor and a selection of props. Anthony writes, "Relationships are made within the scene and a 'play' develops in which the viewer becomes the playwright."
In Venice, Anthony substitutes the traditional, draped theatrical stage and synthesized scenery for the chilling ocean and vast sky. His players perform on the shoreline, highlighting his "underlying theme [of] a society that has developed in and on water". This is the Venice of Italy and the beach in California; the series was shot in both.
This is my first time at Randall Scott Projects, the H Street gallery space that Scott opened in December 2012. The first of two rooms is small—painted white with bright lighting. The four prints framed in all white focus on a similar narrative with different characters, including a man in an Easter Bunny costume. Anthony's solitary players seem light-hearted in their actions, immersed in a tranquil and solemn ocean scene.
The characters' color contrasts with the nearly water-color discoloration of the sky and sea. There are glimpses of bright reds and subtle yellows adorned by his subjects, like in Venice no. 18, 2009. A lady in a crimson riding coat plays a flute while knee-deep in water as an aggressive wave approaches her. Is she playing a sonata as her near certain destruction approaches, like a march of war, or is the scene simply embracing the paradox of a meditative flute against an antagonistic scene?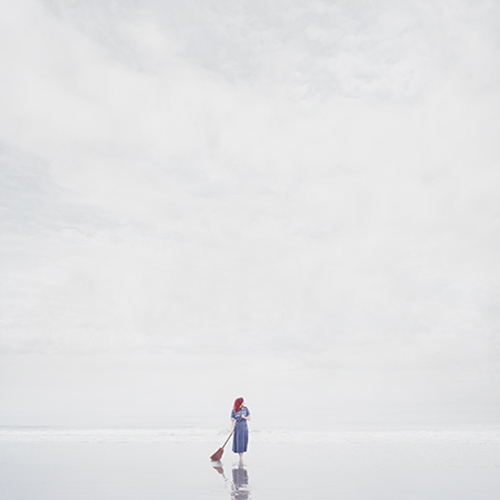 In the second room, large windows flash a glow onto frames that are equally large and act like windows themselves. The players in the photographs, however, are small, and pull you into the scene. The bursts of color aren't as evident, but the size apologies for the loss. In Venice no. 3, 2009, a girl with vermillion hair holds a snarled broom in a soft blue dress. What does this girl know? The waters are calm and clean, while the girl holds an object meant to clean dirt and mess. The play that unfolds is another story of foreshadowing. What might happen after this calm of the sea?
The images are beautiful—a word sometimes frowned upon in contemporary photography. But here, the beauty is what draws the viewer in to write the play Chris Anthony wants you to write.  Mystery becomes the genre that, coupled with the actions and cinematography, writes a story that changes what the viewer initially sees. The player in the photograph holds the answers that the viewer must slowly figure out.
Chris Anthony's Venice is currently on view at Randall Scott Projects, 1326 H St. NE, until February 22, 2014. Open Wednesday through Saturday: 11 a.m. – 6 p.m.