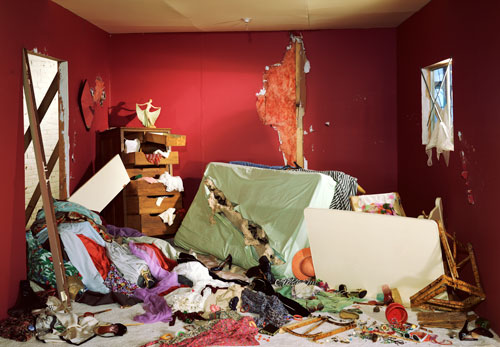 Damage Control: Art and Destruction Since 1950 at the Hirshhorn spans from World War II to the present, covering the destructive theme through artistic interpretation. The enormous exhibit can be broken down into media types: installation, new media, painting, and photography. The first time I visited, I focused on the video art to see how new media plays a role in how we understand destruction. During my last visit, I looked at how the photographs act as virtual realities of devastation. Aside from a few pieces — Arnold Odermatt's series of car crashes and Gordon Matta-Clark's "Window Blown Out" from 1976 — the images are enormous. It felt as if I could walk into each chaotic environment I was looking at. But the photographs also call to question its function as a medium.
Ai Weiwei's large self-portraits dropping priceless Han Dynasty urns reappear from the Hirshhorn's show last winter, Ai Weiwei: According to What?. Across the room from them, a glossy image coated with diasec (acrylic glass) depicts another destruction of antique Chinese vases—this one is not so deliberate. Thomas Demand's "Landing" is a life-sized reenactment of the aftermath from a visitor tripping on his shoelaces at the Fitzwilliam Museum in Cambridge, falling down the stairs and smashing three Qing Dynasty vases. The image captures a fascinating moment of destruction and its rebellious pleasure.
Down a dark narrow hallway is a room lit almost entirely by a Jeff Wall's "The Destroyed Room," a transparency mounted onto a light box. Wall, a photographer known for dramatization of his images, constructed a room and demolished its contents. Carefully placed shoes and jewelry litter the floor, while under-garments fall from the dresser drawers and a mattress pours out its stuffing. The perfect lighting within the tableau creates a commercial like quality to the image.
In one of the last rooms is a collection of photographs by Luc Delahaye, Thomas Ruff, and Walead Beshty. These images also are massive, but with different techniques that blur the destruction. Delahaye's "Ambush, Ramadi" displays an army tank in the aftermath an attack. It is devoid of any people, but the presence of human destruction is very apparent due to, and in spite of the dust enshrouding the Iraqi town. The two overly-enlarged digital images by Ruff are a pixelated account of a human-caused disaster. The low resolution makes it not entirely clear what is happening, a visual breakdown such that happens in the very moment disaster strikes, when victims are conscious that something awful has occurred but are unaware of the actual cause. Beshty's use of multiple exposures for his "Travel Pictures" triptych creates a colored glow over piles of books and broken glass in a dingy basement. The images appear to be a haunting reminder of a harmful past.
The use of photography isn't documentary in Damage Control. Photography here becomes a controlled creative medium like its counterparts, embracing the technology to play its own part in interpretation and metaphor. The naturalistic quality and life-sized production draw the viewer in with recognizable imagery, but continues down a longer path of reflection on how we try to control, mitigate, or interpret destruction in a way that we can make sense of it all.
Damage Control: Art and Destruction Since 1950 is currently on view at the Hirshhorn Museum until May 2014. Open every day 10 a.m.-5:30 p.m.; closed December 25.