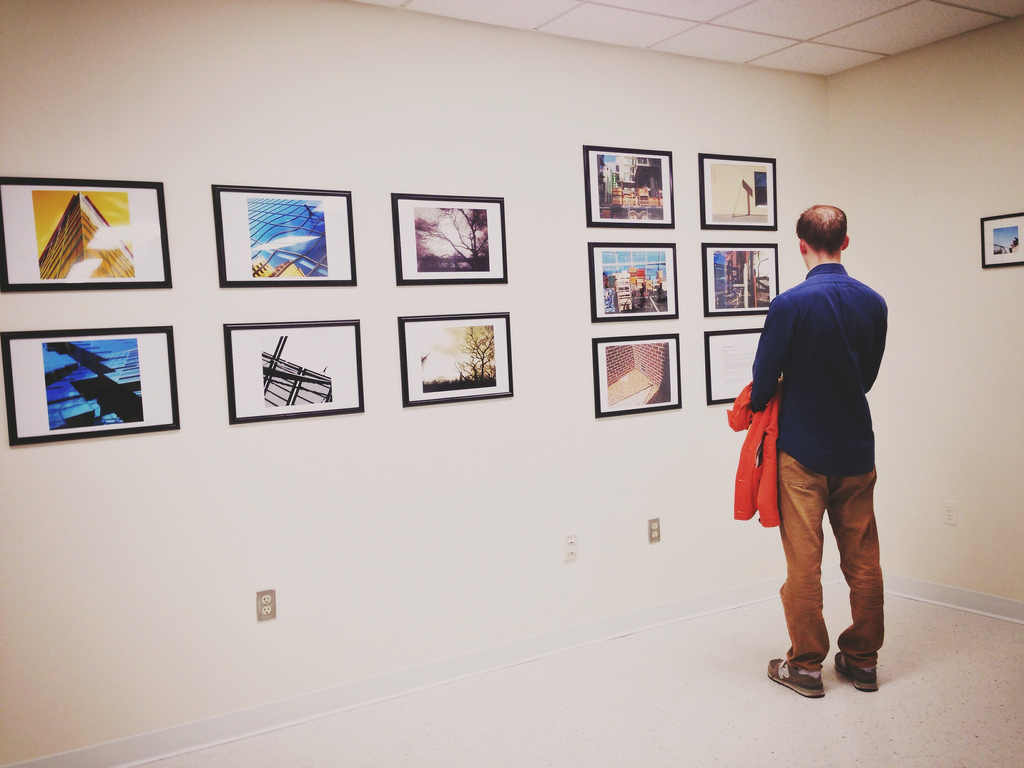 FotoWeekDC just closed its sixth annual international photography festival last weekend. Like any large event that tries to be inclusive of an entire community, it has both lovers and haters. One common complaint – that it didn't focus enough on local photography – was addressed this year with FotoNOMA, which hosted work from a number of D.C. groups like InstantDC and the STRATA Collective. No one can get to all the exhibits, lectures, and workshops that FotoWeekDC offers each year, so we asked some of you what your favorite – and least favorite – parts were:
I loved the whole FotoNOMA exhibition, but I think the women from WPOW had many strong images the invoked a lot emotion. And the Private Moon in America series from photographer Leonid Tishkov was brilliant! I also loved the images from the photographers from Strata Collective.

Tatiana Gulenkina was a repeat International Photo contest winner this year:
I think it's great that they are trying to establish a photo community in the city that could definitely use some more art, so instead of doing just one exhibition they bring together tons of galleries, non-profits, etc. with openings during (or right before) Fotoweek. There are plenty of things to see, however I think that the [International Photo Awards exhibition at National Geographic] was the weakest compared to the previous 3-4 years. If you went to the Warren Building last year or when they did it in Georgetown, it's obviously hard to compare framed museum quality prints and large thematic exhibitions with a sparce exhibition they organized in the courtyard.

Also, they didn't bring back Indie Photo Book Library or any other kind of photo books show, and the range of portfolio reviewers and presenters was not very impressive compared to the previous years. Maybe they lack financing, I don't know what happened. However, I did like the fact that they are trying to showcase local scene in FotoNOMA. I also really liked the fashion photo shoot that they organized with Leica store this past Saturday. In a nutshell, if previous festivals were truly international, this feels more local.

I just want to add that I appreciate all the hard work that goes into in cause it's mostly run by volunteers, well and again – I'm sure if they had more $ they would organize a much better show.
When we started asking around about Fotoweek, we realized a local meetup, the DC FStop Professional Photography Group, was getting together Tuesday night to discuss this very topic. We asked one of the organizers, Sarah Hodzic, to pass along some of their notes.
My disappointment with FotoWeek is when it falls during the year.  The fall is my busiest time as a professional portrait & wedding photographer. There were several workshops and lectures I would have attended had they been scheduled when I had more free time. Every year I am disappointed that I cannot participate more.

One thing I did make sure not to miss was the Mary Ellen Mark lecture. I was thrilled to get to hear her speak after following her work for quite some time. To have such an icon accessible and free was really amazing.Next year I would love to see a more functional calendar. The daily emails were very helpful however I often saw things that I hadn't noticed on the website despite pouring over it in order to maximize the little time I could spend at FotoWeek.  I think the website was a bit easier to navigate this year but could definitely use an upgrade.
My over all take away from FotoWeekDC was positive this year, which is different than it's been in the past. FotoWeekDC has a lot to offer in the way of exhibits, lectures, workshops, and interactive portfolio reviews and this year I feel like I got a good and well rounded experience. I tended to lean more towards the exhibits that were already part of the museums around town. A few favorites were: A Democracy of Images: Photographs from the Smithsonian American Art Museum; One Life: Martin Luther King Jr.; Landscapes in Passing – Photographs by Steve Fitch, Robbert Flick and Elaine Mayes; and lastly, Dancing the Dream, all of which were exhibits happening at SAAM and the National Portrait Gallery. I also was excited to get the chance to visit smaller galleries such as Hillyer Art Space for D.B. Dotvall's: A Slower Way of Seeing, and the exhibit that most inspired me in my own creative endeavors, Pamela Viola's Having a Ball.

I was fortunate enough to also take part in ASMP and FotoWeekDC's talk with Mary Ellen Mark. That talk was an unexpected kick in the pants for my own self-exploration of what I think it means to be an artist and photographer in this day in age. I didn't agree with a lot of what Mark believed when it came to her definition of what a "real" photographer is, but her very strong and opinionated thoughts lead me to have my own eye opening acceptance of myself as a photographer/artist. And while I loved getting to see her work on the big screen, I only wish that it wasn't as rushed, whether that was her needing or wanting to get through her work, or if it was the time constraints of the venue, it was hard to get more than a quick glance as her images whizzed by on the screen. When she did pause for a moment to explain one of the hundred or so images, it was illuminating and fascinating to hear how her eye and brain sees the image.

Lastly, I was able to partake in one of the EDU classes at the Goethe Institute with E. Brady Robinson. She was giving a lecture for emerging artist and photographers, the focus of which was helping us get a better understanding of how to get our work and ourselves "out there," how to write a good artist CV, bio and artist statement. I walked out of that lecture with some great information, but I will say I felt like the time could have been used a bit better. I think Ms. Robinson was trying to cram a a lot of information into the 3 hour session which was a bit overwhelming to take in, and what got lost in the end I felt was the time to actually work on the CV and artist statement. But over all I was happy with the information I walked away with.

All in all I enjoyed my time this year exploring and learning. I felt I got to experience more of what FotoWeekDC had to offer this go around. The daily emails were a huge help in reminding me to get myself out there and take advantage of this awesome week of photography, and I'm glad I did!
I love the access to well known photographers. Other photography events across the US should take notes on what FotoWeekDC provides.

I dislike that FotoWeek is held during a very busy month for working photographers that photograph events, portrait and weddings in order to pay the bills so to have time for focus on personal or group projects. It is very hard to go to or even take in so much information when the main priority in November is to get as much work done as fast as possible before the holidays.